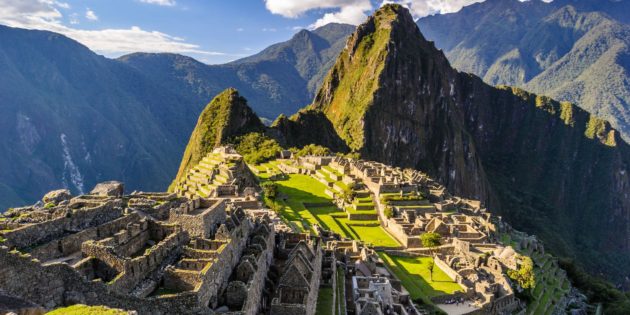 Yoga and Meditation • Cultural Immersion in Sacred Peru
"Opening Doors to the Mysteries of the Heart"
June 18–June 30, 2019
Yoga and Meditation at Machu Picchu, the Amazon Rainforest, Cuzco, the Sacred Urubamba Valley, and Rio Madre De Dios Jungle
Guided meditations led by Marla Perry, clinical psychologist and dharma practitioner. Marla works in Tucson at a trauma-addiction program and co-leads Bhutan spiritual immersion pilgrimages.
Yoga practice led by Suzi Hammer, E-RYT500, CPT, MA. Suzi did her 500 hour Master study with Mark Stephens. Suzi has been sharing her love of yoga, scripture teachings and meditation internationally for 20 years.
Contact charles@nulltwoTruths.org for further information.
---
Yoga Practice will be led by Suzi Hammer, a joyous, accomplished yoga instructor. She has an authentic style of yoga crafted over 20 years, which embraces all levels, and draws from many yoga traditions, including Hatha, Iyengar, Yin, and Restorative.
Suzi's energy and inspiration is to have her students practice with curiosity and playfulness as they discover their own unique body, while improving balance, strength, flexibility, and nurturing the mind-body-spirit connection. Her infectious passion for yoga's incredible journey, allows for possibility and growth for the individual student.
Yoga classes will include a sequence which will calm the body and release tension through mindful measured movement. Class will be followed by an optional 20 minutes of meditation on the "gems of the Bhagavadgita."
Suzi received her 500 hour Master training from Mark Stephens and has studied under Rod Stryker, Rodney Yee, Todd Norian and Tias Little. Suzi has traveled to India several times and to Bhutan, where she taught yoga on a spiritual retreat. She currently works at a Wellness Clinic in Wisconsin.
Meditation practice themes will include: the setting of daily intentions, enhancing gratitude, cultivating self-compassion, and building resiliency.
Our cultural immersion in Peru will open us to a practice of being present more fully. Guided meditations and silent meditation practice will be led daily by Marla Perry, Ph.D., clinical psychologist and dharma practitioner.
Marla's primary dharma teacher is Al Kaszniak, Ph.D., Zen Buddhist Sensei, neuropsychologist, researcher and author on Zen practice and neuroscience. Marla works in trauma-addiction recovery programs and co-leads annual Bhutan spiritual immersion pilgrimages and retreats.
---
Itinerary
Day 1. Tuesday, June 18.
For those who arrive early, we will have a walking tour around Miraflores, exploring nearby Kennedy Park and Playa Waikiki Beach and galleries.
There will be yoga practice and separate meditations each day, many at inspired and sacred sites.
Lodging two nights at Virreynal Hotel in popular Miraflores neighborhood. The Virreynal is an elegant period mansion, with attentive staff and close to galleries, parks, and the beach.
Day 2. Wednesday, June 19.
Group gathering and Welcome Breakfast at our hotel, Virreynal Hotel in the suburban Miraflores upscale district of Lima, Peru. Introductions and tour overview by guides, Charles Simmons and Marla Perry-Simmons, and Suzi Hammer, accomplished yoga instructor, who has completed the 500-hour Master Study Yoga program with Mark Stephens.
After breakfast we will have a yoga practice. We will then visit the Rafael Larco Museum to experience pre-Columbian art and culture. The Larco Museum has one of the most incredible ceramics collections found anywhere in the world- a collection of 55,000 pots, grouped into categories such as animals, people, and medical and medicinal practices. it is an astonishing glimpse into layers of Peruvian cultures.
After lunch we will visit the National Museum of Anthropology and Archeology in Lima. This treasure-trove features the country's best collection of pre-historical artifacts, from the earliest archeology sites to the arrival of the Francisco Pizarro and the Spaniards. The collection includes Chavin stone carvings, Nazca ceramics, and Paracas weaving textiles – all providing insights into the layer of cultures that make up the traditions and evolution of Peru.
Late afternoon meditation followed by dinner and early evening visit to the Miraflores artist Market at Parque Kennedy.
Day 3. Thursday, June 20.
Early flight to Cuzco, the archeological capital of the Americas, and the continent's oldest continuously inhabited city.
We will drive to Chinchero village, as Thursday is market day there. Chinchero is a small, rustic, authentic village with Inca architecture and megalithic carved rocks, and a beautiful adobe church in the plaza built in 1607. Chinchero is the center of weaving in Peru. We will visit the textile women's cooperative there, and view demonstrations of washing, dying, and spinning alpaca wool. The market is colorful with local inhabitants, traditionally dressed, shopping for their household fruits and vegetables.
We will return to Cuzco and have lunch and rest in our hotel, Hotel Monasterio San Pedro, where we will be for the nights of June 20, 21, and June 23 and 24. Hotel Monasterio has a 4000-square-meter enchanting garden, about one acre of serene landscape and plantings, a wonderful venue for daily yoga. Monasterio, a converted monastery, is located across from the famous San Pedro Market.
Afternoon walking tour of Cuzco, taking in the massive Inca-built stone walls and Quechua-speaking inhabitants who populate the narrow streets, often inhabited with lamas. When Columbus "discovered" America, Cuzco was already a thriving Inca capital of culture and commerce.
We will walk the storied Plaza de Armas central Plaza, the central arcades where artisans have hand-made crafts displayed for sale on blankets. We will then visit the Cuzco Cathedral, whose construction began in 1559 and was completed almost 100 years later. Inside are richly carved altars and the best collection of spiritual devotional art, called the Cuzco School of Painting. These stunning 30- and 40-foot canvases were created from 16th Century inspirations, blended through the soul and passion of indigenous artists.
In late afternoon, we will visit the San Blas artisan quarter neighborhood and see some of the finest examples of post-colonial wood carving, weaving, and oil painting in the Americas. It is here, in the Colonia neighborhood, that the simple, un-pretentious painters live with their families and have their studios, which are open to visitors.
We knew several San Blas artists from our previous trips, and learned that they would 'apprentice' for many years, drawing only with pencil, before their mentors allowed them to use oil pigments.
Day 4. Friday, June 21.
After an early breakfast we will visit the Sacsayhuaman Ruins, built by the Incas, with many of the stones weighing 200 tons each. The area has been continuously occupied since 900AD. Located on a steep hill, Sacsayhuaman is a fortified sacred complex with three-tiered zigzag walls, and a wide view of the sacred Urubamba Valley. The Incas envisioned Cuzco in the shape of an indigenous puma, with Sacsayhuaman (pronounced: sex-a-y-woman) as the head.
It is here that the last serious rebellion of the Incas against the Spaniards occurred.
Gentle afternoon hike in the Sacred Valley.
Dinner and free time in Cuzco after dinner, a time to enjoy concerts and street fairs, as part of the week-long Inti Raymi Festival of the Sun celebrating the winter solstice and the harvest season.
Day 5. Saturday, June 22.
Early morning train ride to Aguas Calientes (6,693 feet elevation), the gateway town, and onward to Machu Picchu, called "the lost city of the Incas," the most spectacular archeological site in all of South America.
At Machu Picchu, we will encounter the 16 connected ceremonial baths, and take a short walk onward to Machu Picchu's only round building, The Temple of the Sun, containing Machu Picchu's finest stone wall work. Nearby this towering temple a series of mummies were discovered. This site is called the Royal Tomb. We will marvel at the changes in color and light, throughout the day.
At the Sacred Plaza at Machu Picchu, we will investigate the Temple of the Three Windows, with its dramatic views of the plaza. We will walk through the Principal Temple and admire the perfection of its construction, and then on to the House of the High Priest. This is followed by a visit to the Sacristy, known to contain 32 stone carved angles!
Next, we will walk to a small hill to the major shrine, referred to as the 'hitching post of the sun', where the ancients organized at Intihuatana a pillar assisting in telling and recording the time of year. It is here that the Inca astronomers were able to predict the solstices, using the angles of the pillar. In this way, the Inca, the sons of the sun, were able to claim control over the exact return of the lengthening summer days.
Our lodging will be at Aguas Calientes, a countryside small village with great indigenous art and crafts markets. We will stay overnight at Gringo Bill's Boutique Hotel, which is only a few yards away from the spectacular Urubamba River and several blocks from the train station and a short walk to the Hot Springs. Gringo Bill's Boutique is just around the corner from Aguas Caliente village square.
Evening free time in Aguas Calientes, with its frontier-like vibe, local markets, or perhaps a visit to the Hot Springs, which closes at 8pm. Be sure to bring your bathing suit.
Day 6. Sunday, June 23.
We will return to Cuzco early in the morning, checking back into our glorious Hotel Monasterio San Pedro. We will visit the Pisac Sunday Market, when the local Quechua communities set up in the main village square.
The Pisac market was established in the 1570s and is a lively and colorful bargaining market, full of discoveries and treasures in the heart of the Sacred Valley, and offering a glimpse into the traditional daily Andean village life. Here we will view vast agricultural terracing, ruins and rustic adobe baking ovens offering freshly cooked empanadas.
If you wish, we can attend the Quechua indigenous Mass, and view the colorful procession led by mayor and villagers. Afternoon gentle hike and Yoga, in the countryside.
Evening participation in the ongoing celebrations of the Festival of the Sun in Cuzco.
Day 7. Monday, June 24.
Morning drive to the Sacred Valley, past ancient terraced fertile farmland in the highlands, leading to the Urubamba River. The river, called Willkamayu in Quechua, means the sacred river. The river is fed by numerous tributaries descending from adjoining valleys and gorges, and from several 19,000 mountain peaks. Here we will have a yoga session in the most breathtaking pristine vistas in all of South America. There will be time for village visits and gentle hikes.
Late afternoon back in Cuzco will be free time for meditating, journaling, museum visiting, shopping, and people-watching in the plaza and outdoor cafés.
Day 8–11. Tuesday-June 25 through Friday, June 28.
Our rainforest-jungle adventure begins with a short plane ride to Puerto Maldonado, gateway to the Amazon. Pto. Maldonado is the capital city of the Madre De Dios region and entrance to the southern Amazon jungle.
We will journey by boat on the Madre De Dios River to our jungle lodge, Monte Amazonico, where we will be for four days and three nights. We will be cradled in the Tambopata National Reserve, founded to protect several eco-systems of the tropical rainforest. The Ese Ejja and Pukirieri native people inhabit the buffer zone surrounding the Tambopata National Reserve. The rainforest is the lungs of the planet, and we will spot monkeys, flocks of vibrantly colored flying macaws, black caiman (alligators), butterflies, capy baras, frogs, 1,300 bird species, and sloths.
We will have day trips walking the rainforest canopy, night walks in the jungle spotting caimans, hammock time, an outing to dreamy Lake Sandoval, a visit to Monkey Island, kayaking and optional zip line in the jungle. There is a pool for cool afternoon relaxation, so bring your bathing suit. There will be plenty of time for Yoga in the rainforest.
Day 11. Friday, June 28.
Leaving our jungle lodge, we return to Pto. Maldonado in the morning, and visit the authentic outdoor local market featuring exotic vegetables, Brazil nuts, tropical fruits, and undiscovered coffee. Puerto Maldoado has the vibe of a frontier port town with wonderful people-watching. Pto. Maldonado is 34 miles west of Boliva, and is at the confluence of the Tambopata and Madre De Dios rivers.
We catch the late afternoon plane back to Lima at Padre Aldamiz (Puerto Maldonado) International Airport, and will have an evening dinner at a Miraflores seaside restaurant.
Day 12. Saturday, June 29.
After breakfast we will have a Yoga practice. Following that, we will go to Parque del Amor, a landscaped park, overlooking the Pacific Ocean. We will walk along the Malecon, a wonderful opportunity for photos.
We will visit the Barranco neighborhood, for artistic inspiration, and home to some of Peru's finest artists. The district has a bohemian vibe with artisanal galleries, studios, restaurants and coffee shops.
Lunch will be in Barranco, followed by a visit to the Pedro de Osma Museum housed in a century-old mansion, with lush gardens and exceptional Colonial art and artifacts. Late afternoon stroll in Kennedy Park and Puente de los Suspiros (lovers' bridge of sighs). If there is time, we will visit the pre-Inca ruins of Huaca Pucllana. Free time for a visit to Kennedy Park, journaling, meditation, or last shopping opportunities.
Farewell dinner.
Day 13. Sunday, June 30.
Breakfast and a last Yoga practice and meditation session. Depart for home today.