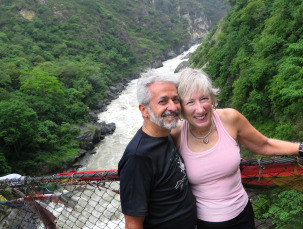 "We travelled to Bhutan this past summer (2014) with Charles and Marla Simmons (twoTruths.org) on their Bhutan Pilgrimage Tour. All the way around, the experience was simply spectacular! The schedule was very well organized, yet allowed for impromptu modifications such as when we had the privilege of meeting a local Governor who arranged for us to visit his ancestral village, where we enjoyed local customs, a butter tea and lunch, and saw how the local corn alcohol drink called "Ara" is made.
"We had two wonderful and highly knowledgeable local guides that never ceased to amaze us in their patience with our many questions and frequent requests for stops to take photographs, visit roadside sites, or just take in the amazing scenery (of which there was no end to scenic views of nature at its best). We also were privileged to have a naturalist on our trip and between her expertise and our most knowledgeable bus driver, we got to enjoy learning about the magnificent diversity of flora and fauna of the region that is unlike any other.
"Add to all of this our immersion into the Buddhist culture through Monasteries, Monks, and Meditation (the big 3 M's) and of course, learning more about Gross National Happiness. It was a trip that we talk about frequently and hope to take again. We recommend it to anyone who wishes to have a deep, life-enriching experience."
– Celestino Fernandez, Ph.D., University of Arizona Distinguished Outreach Professor of Sociology and Kim Fernandez, retired Architect, Tucson, Arizona
---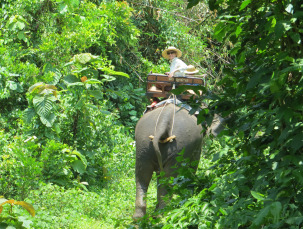 "I travelled to Bhutan with Charles and Marla Simmons in June 2013. Months before deciding if I would go, as I was traveling by myself, I spent many hours on the phone with Charles, asking logistics questions about the trip. He graciously spent as much time with me as I needed, reassuring me and answering all my questions. Prior to our departure Marla and Charles held an orientation in their home, inviting all the local travelers. We got to meet some of the people we would be traveling with and at the same time they prepared us for our upcoming adventure.
"On the Tour, Marla and Charles made everyone feel comfortable, as if we were one big family. We were immersed in the Bhutanese culture and experienced the graciousness and beauty of the people and the landscape. For me, it was an enriched experience of a lifetime. That little country of Bhutan remains within my heart and spirit and often calls me to return."
— Jeannie Fruean, Tucson, Arizona
---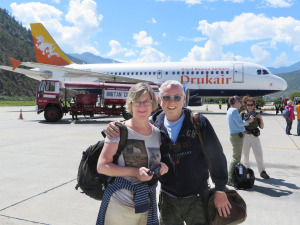 "Without your presence, your guidance, your connections, your wisdom, your knowledge and also the wonderful group of likewise people you were able to put together, our impressions from the Pilgrimage to Bhutan would be a fraction of what we really experienced in June, 2014.
"Mira and I plan to return to Bhutan with you and Marla and Kezang, a second time, for the Summer 2015 Pilgrimage Tour, and look forward to seeing more of the undiscovered parts and culture of the Kingdom of Bhutan with you."
— Jack Fruchtman C.P.A. and Mira Skowronska, Translator, New Jersey