Cultural Immersion Pilgrimage Tour Co-Leaders:

Marla Perry and Charles Simmons were guests of the Royal Kingdom of Bhutan, with diplomatic visas, in June 2012 for two weeks, exploring development opportunities for Bhutan, and learning about their Gross National Happiness (GNH) initiatives.
Charles and Marla have led Insider Tours to sacred places in Mexico (Oaxaca, Chiapas, San Cristobal, the Palenque Pyramids and Monte Alban Pyramids), Guatemala (Chichicastenango, Tikal Pyramids, and the Maya Highlands, and Antigua), and Peru (Machu Picchu and Cuzco).
Charles' journey began with his living and working in Alaskan Eskimo villages for two years, doing rural economic development work. This included assisting them in establishing self-determination projects during the period of aboriginal land claims challenges and settlement, with the State of Alaska and the federal U.S. government. This respectful thread has followed him, in his dedication to the Maya in Mexico, Guatemala, and Belize, and with interactions with monks in Chiang Mai, Thailand, and also Bhutan.
Marla brings a special sensitivity, luminosity, and exuberance, as a tour leader and a therapist. She has immense curiosity, and a calm and playful presence in her interactions with others.
Kezang Nendag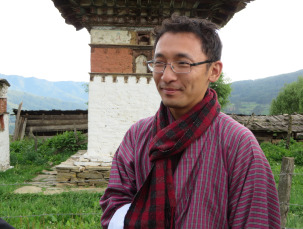 Kezang Nendag is our Bhutanese lead guide from Bhutan Wisdom Tours, a quiet soul with a deep, compassionate presence and easy humor.
Kezang holds the space of knowingness and safety. You get a calm sense that he will take care of whatever comes up on the Pilgrimage, and provide whatever is necessary to assure everyone's comfort and contentment.
Kezang is not a guide full of chatter, but someone you can rely on to see six days into the future. He is the one who accomplished getting the India Entry Visa for one of our tour participants, transiting from Bhutan, when all else seemed to fail. Kezang is someone you need to get to know.