"The world has few secrets left … Bhutan is one of them."
— Katie Hickman, Dreams of the Peaceful Dragon – A Journey into Bhutan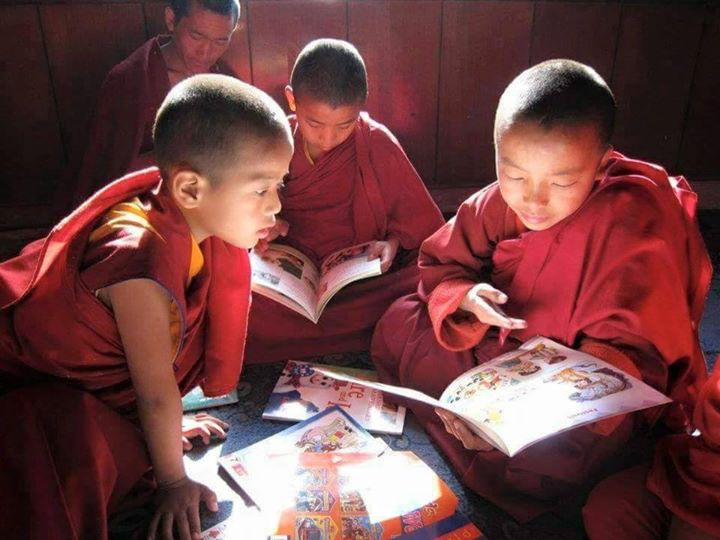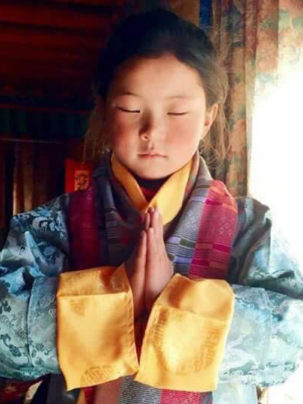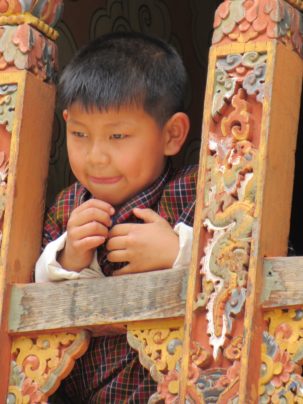 "All travel is a sacred journey to self-discovery and a spiritual practice".
Joseph Dispenza, The Way of The Traveler
Day 1, Sunday, September 27.
Throughout our unfolding journey, we will be accompanied by our lead retreat teacher, Konjin Gaelyn Godwin Roshi, Abbot, Houston Zen Center. Konjin Gaelyn will lead us in meditations and exercises, contributing to the sacredness of our pilgrimage.  Bhutan, situated between India and Tibet, is a pristine place for retreat and renewal.
Early morning flight from Bangkok, Thailand, flying over the stunning Himalayas, and arriving in Paro, Bhutan.
On a clear day we will see the Mount Everest range.
After lunch, we will have a presentation by Khenpo Phuntsho Tashi, Director Emeritus of the Bhutan National Museum, followed by a tour of this jewel-box of Himalayan and Bhutanese artifacts, culture, and tradition, including sacred masks from centuries of mask dance festivals. The Museum building once served as the watchtower for the Paro Fortress, guarding against Tibetan incursions in the 16th Century.
Khenpo Tashi has presented to our groups for years, and is a bridge between the contemplative community and the dynamic changing Buddhist culture and society. He is the author of numerous profound books, including Invoking Happiness, Three Rising Stars: Amazing life stories of the Enlightened Masters of Bhutan, Mindful Living in Bhutan, The Fine Art of Living and Manifesting A Peaceful Death: Primordial Wisdom, and Journey to Liberation: A Life Story of the Buddha According to the Mahayana Tradition.
Khenpo Tashi has traveled throughout the world giving retreats and workshops. He is very approachable, easy to understand, and a delight. Khenpo participated in the Smithsonian's 42nd Folklife Exhibition, featuring Bhutan's culture and art.  We are very blessed to have his participation, compassion, wisdom, and friendship.
Late afternoon stroll in Paro Valley, a verdant setting cradled in gentle mountains with red rice paddy fields, our introduction to traditional farmhouses and the astonishing Bhutanese-Tibetan architecture.
Enjoy mingling with locals in Paro town's artisan shops, galleries, and cafés.
Day 2, Monday, September 28.
After breakfast, a short flight to Bumthang, the spiritual heartland of the kingdom, where many relics and treasures were revealed. Bumthang has more ancient temples and sacred sites, than any other regional province. It is here that Padmasambhava (Guru Rinpoche) came in the 8th Century, meditating and bringing Buddhism to feudal Bhutan, called 'The Hidden Land'.
We will visit a temple built by the Queen of Bhutan's 4th King, part of the Kurje Lhakhang temple complex. These glorious grounds are where Guru Rinpoche meditated, a serene place near the banks of a river, and surrounded by a 108 Chorten wall.
Enjoy Choekhor Valley and meadows, exuberant fresh air and bird songs, while eating an authentic Bhutanese picnic lunch.
Afternoon visit to the sacred 'Burning Lake', also called Mebar Tsho, a holy site revered as the place where Pema Lingpa, Bhutan's greatest terton (treasure finder), discovered several of Guru Rinpoche's hidden treasures- hidden teachings key to Vajrayana Tibetan Buddhist teachings.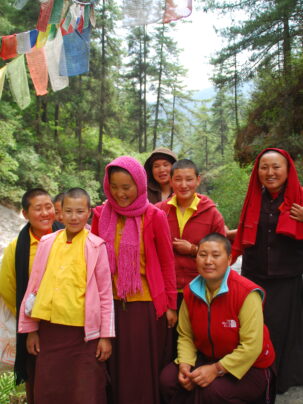 Our retreat teacher, Dr. Karma Phuntsho, says this about the Burning Lake experience:  "Natural and spiritual energies flow from the landscape… a conducive environment for spiritual experience".  Pema Lingpa, (1450-1521), the renowned Bhutanese saint, and second in importance, only to Guru Rinpoche, meditated and prayed here.
Burning Lake is a pristine river gorge, and we will luxuriate in the still beauty and forest wildness.
The magical day will continue with a visit with the nuns of Pema Tekchok Choling Shedra Nunnery, the caretakers of the Burning Lake shrine.
Day 3, Tuesday, September 29.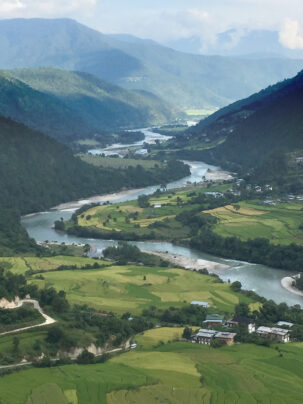 After breakfast, a rare visit to Dr. Karma Phuntsho's ancestral village of Ura. This hour and a half drive goes through stunning landscapes and villages.
Here we will be going back in time, viewing many agricultural practices from medieval times.  The Valley of Ura is believed to be the home of the earliest inhabitants of Bhutan.  We will have an optional hike in the Ura Valley, the area, called "the Switzerland of Bhutan". Those who wish, can stay in the village and commune with wild horses, tame cattle, and sheep, and visit with farmers and enjoy the rustic, traditional farmhouses.
Dr. Karma and Konji Gaelyn will lead meditations and talks inside the Ura temple, which is dedicated to Guru Rinpoche, and which houses three sanctuaries.  The high point of the day might be the most authentic Bhutanese meal, prepared by the family and friends of Dr. Karma.
Day 4. Saturday, Oct 5th.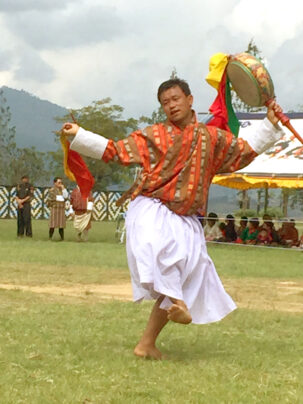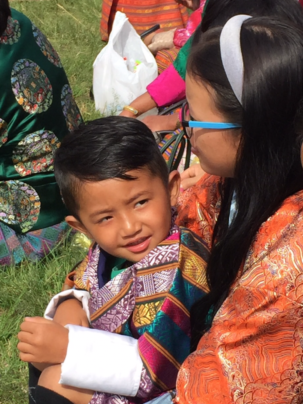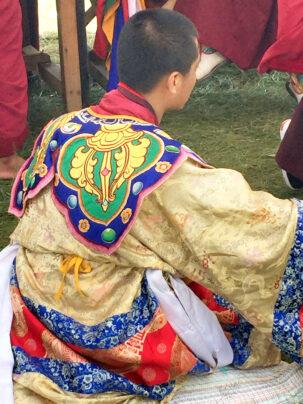 After breakfast, we will attend the (Thangbi Mani) sacred Masked Dance Festival (tsechu), a unique festival displaying the rich tradition and story-telling, celebrating the cultural heritage of the Thangbi Lhakhang Monastery, founded in 1470.
The Masked Dance performances are very compelling, with drums, horns, and brilliant costumes, heralding in the intention to bring peace, prosperity, and a good harvest for the entire community.
Part of the festivities and lightheartedness are the Himalayan clowns who playfully interact with the attendees. Villagers come from all over the region to celebrate the pageantry.
The tsechu is a people watching delight, and an opportunity to absorb and admire the beautiful textile clothing worn by peoples of the Bumthang Valley.
Following the Festival, we will visit Jakar town, the district capital, a place with a frontier sensibility, and history dating from 746. That was the year Sindhu Raja, the Indian monarch, invited Guru Rinpoche to Bhutan, and is the site of the first temple. Jakar town is known as the region's hub, and venues for handmade momo dumplings, brightly colored woolen textiles called yethra, Himalayan artifacts and antiques, prayer flags, and stores selling firey Ara, Bhutan's iconic homemade liquor.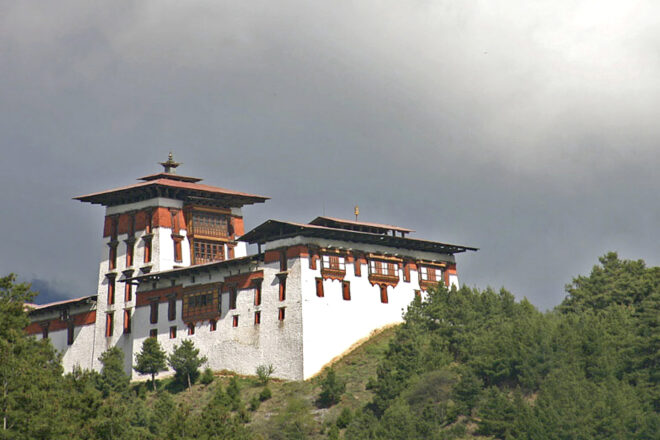 We will end another contented day with a visit to the Bumthang Dzong fortress in Jakar. With a circumference of 4,900 feet, it is the largest Dzong in Bhutan, and is the treasure-box to many courtyards, paintings, frescoes, and events throughout the centuries.
Early evening session, beginning the Retreat. This is the time Konjin Gaelyn Godwin will be inviting us to set our intentions for the retreat.
Day 5 and 6, Thursday and Friday, October 1 and 2.
The setting for the first part of the retreat is Lhodrak Karchu Monastery, a monastery of great significance, founded by a descendent of a Tibetan lama, whose spiritual lineage is traced back to one of Guru Rinpoche's closest disciples.
It is rare that Western visitors be in audience with the monk community and their daily lives. This is the third year that we have been invited in, with our retreat hosted by the Abbot, Namkhai Nyingpo Rinpoche.  His Eminence is the 7th reincarnation and received teachings from both the Dalai Lama, and also Venerable Dilgo Khytense Rinpoche.
The assembly hall is breathtaking with massive statutes of Sakyamuni Buddha and Guru Rinpoche. The complex is home to more than 400 monks. In years past, the monks have interacted with our pilgrimage participants.  It is a joy to be immersed in their dynamic energy.  Often, most afternoons, the monks are engaged in lively debate- stamping their feet and lunging forward slapping their hands in victorious slap, reinforcing their logic, cosmology,  Buddhist philosophy, ethics, and psychology, on the large terrace area with the stunning valley views below.
The Retreat
Retreat Theme: "Witnessing the World with Bodhisattva Heart and Mind."
Lead teacher Konjin Gaelyn Godwin Roshi will be participating fully throughout the Pilgrimage and the Retreat at both monasteries: Venerable Dilgo Khytense Rinpoche's Monastery in Paro, Western Bhutan, and also Lhodrak Karchu Monastery, in the spiritual heartland of Bumthang, in central Bhutan.
This precious five-day retreat in the heart of the last Buddhist kingdom introduces retreat participants to the inner compassion of the human heart through traditional awakened heart practices (bodhicitta), looking at the nature of mind and wise service.
The retreat will include accessible meditation teachings and mindful practices, and ceremonial celebrations (pujas), indigenous to the kingdom of Bhutan.
In the context of current societal individualism and dislocation, and challenges about political, environmental, and social functionality, we will explore the following topics in dialogue, dharma talks, and meditations:
Awakening our connection with all sentient beings, and cherishing them
Understanding and transforming the mind
Clear seeing: meditating on the basis of Mind; encountering 'suchness'
Opening the heart: meditating on compassion and loving kindness
The world is our sangha: meditating on joy. meditating on equanimity
The Six Perfections (Parmitas); the dedication of all merits
Being wisely kind to yourself
Cultivating altruistic intention toward others
Cultivating fearlessness and nurturing unshakable compassion
There will be four one-and-a-half hour sessions, with breaks, each day. There will be an abundance of time for questions and answers, dialoguing, and meditation, throughout.
Konjin Gaelyn will lead the first two days of retreat at Lhodrak Karchu Monastery in Bumthang. Konji Gaelyn Godwin, Roshi Abbot of the Houston Zen Center, is a nurturing, gentle spirit who trained with Robert Aitken Roshi in 1995. Konji Gaelyn is the personification of "strong back, soft front,"the la as a way to be in the world.
In 2018 she was appointed as the Director of Soto Zen Buddhism International Center, North America, of Soto Zen Buddhism, headquartered in Japan. She is a member of the Soto Zen Buddhist Association, headquartered in the US, and served as the President of the Board. She is also a member of the American Zen Teachers Association, serving on the membership committee, and the Association of Soto Zen Buddhists.
Day 7, Saturday, October 3.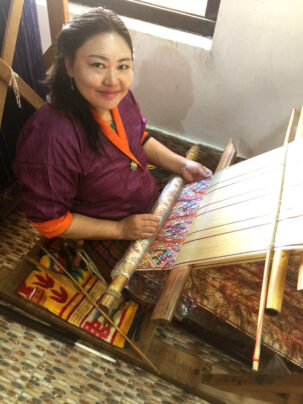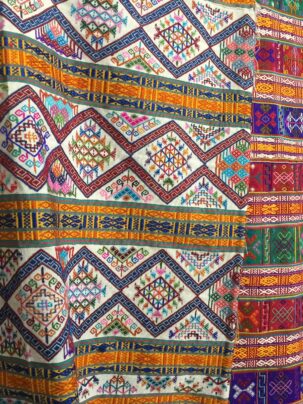 After breakfast, a morning visit to Chumey Trading Post, on the drive back to Paro. This treasure-trove, with the best prices for Himalayan artifacts, masks, ritual objects, textiles, and handicrafts, is located in an old growth forest, in one of Bumthang's four valleys. It has been a favorite stop and shopping venue for many of our tour pilgrims. This is also a wool (yak) weaving centre, with weaving loom demonstrations.
---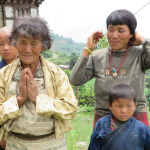 Three Generations of Devotion and the Meaning of One Grain of Rice
The last walking stretch to the ancient Tharpaling Monastery is along a rural road up and down switchbacks, past meadows of wild flowers and pristine pine and oak forests, and past rustic farm cottages. [Read More …]


---
The last walking stretch to the ancient Tharpaling Monastery is along a rural road up and down switchbacks, past meadows of wild flowers and pristine
We will visit Tharpaling Monastery, founded by Longchenpa Rabjam (meaning 'vast expanse of space' ) in the 1300's.
He was one of the most brilliant teachers of the Nyingma Buddhist lineage, and wrote part of his "Seven Treasures" at Tharpaling, and also other Dzogchen  masterful teachings.  Tharpaling is an enchanted and profound sacred site, and visited by Guru Rinpoche and also Venerable Dilgo Khytense Rinpoche.  This is a perfect setting for our group to meditate in.
In the afternoon we will arrive, taking the east-west National road, in Trongsa.  Trongsa is situated in the geographic center of Bhutan, surrounded by the Wangchuck Centennial National Park (1,900 square miles) and the Jigme Dorji National Park (1,666 square miles) and is further connected to a series of biological corridors and wildlife sanctuaries.
Altogether, Bhutan has 84% of its land with forest canopy in tact, according to the World Bank, and is one of the countries with most forest cover and the world's only carbon negative country, due to the Buddhist society's commitment to both 'spiritual ecology and also filtering all development through the lens of Gross National Happiness.  Bhutan has built sustainability into its national identity.
The Trongsa region is home to blue pine forests and alpine meadows, 200 species of plants, 23 species of large mammals (including the Bengal Tiger, the Snow Leopard, and the Himalayan Black Bear), and over 100 bird species.
We will spend the late afternoon hiking, journaling, and relaxing.
Day 8, Sunday, October 4.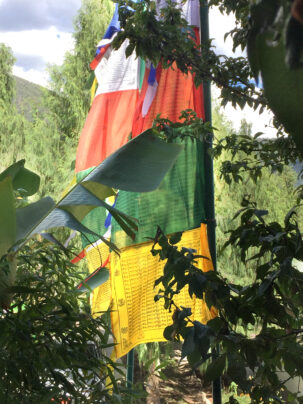 After breakfast, we will drive to Wangdue, over the Pele la Pass. We might see yaks grazing.
We will hike in late afternoon, with a meditation in the inspired, knock-your-socks-off Phobjikha (glacial formed) Valley.  We will also visit Wangdue town.
Day 9, Monday, October 5.
After breakfast, we drive to Paro. On the way we stop at the storied Dochula Pass (10,300 feet), for spectacular 360 degree views of the Himalaya mountains, forests, and cloud forests. Dochula is a sacred place, where 108 stunning chorten monuments were built by the Queen Grand Mother, honoring Bhutanese and Indian soldiers killed when fighting Indian rebel separatists, in 2003. We will walk among the profound 108 chortens, sometimes shrouded in mysterious clouds.
We will have time to explore and meditate in the nearby meditation sanctuary caves, tucked into the hills, just above Dochula Pass.
As we get closer to Paro, we will stop at the Sissinang , Shechen Orgyen Choldzong Nunnery, founded and supported by Venerable Dilgo Khytense Rinpoche after he fled Tibet. Sissinang is one of our favorite encounters. We love visiting with the nuns and seeing their latest projects. There are 180 nuns in residence, ages 15 to 70 years old.
Eleven of the nuns have received full ordination.  The flourishing of Sissinang Nunnery as a place for education of women is a revolutionary step in the establishment of equality for women practitioners in the East.
Dinner at our hotel in Paro.  Evening retreat preparation and meditation.
Day 10, 11, and 12, Tuesday, Wednesday, and Thursday, October 6, 7, and 8.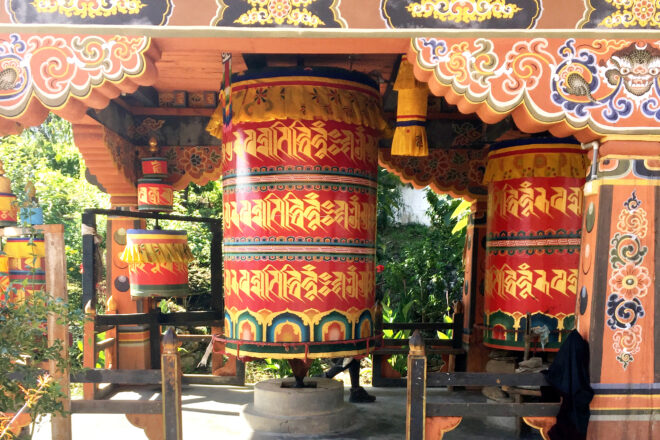 Retreat continues.  This 3-Day portion will be held at Venerable Dilgo Khytense's Monastery campus, outside Paro, Bhutan, where we are the invited guests.
Day 10 and 11, Tuesday and Wednesday, October 6 and 7 with teachings by His Eminence, Geshe Dorji Damdul.
Geshe la is the Director of The Tibet House, in Delhi, the Cultural Centre founded in 1965 and sponsored and supported by His Holiness, The Dalai Lama. Geshe la, a Tibetan monk and scholar, and is a close associate of the Dalai Lama, and his primary translator for many of his works.
In his own right, Geshe la is a highly evolved teacher, and Marla and I benefitted in being in his teachings for seven days, at the Deer Park Institute last month, after Bhutan, when Geshe la presented Masters' level course from ancient 5th Century Nalanda, on the Heart Sutra, compassion, and taming the Mind.
Geshe la will continue the Retreat Theme: "Witnessing The World with Bodhisattva Heart and Mind", pursuing the nine Buddhist topics outlined above, with his own inclusive style of thought provoking robust dialogue, inviting in threads of questions and answers.  Geshe la, in working over the decades with the Dalai Lama, and also with his own disciplined training in logic and discourse, is a master.  We are in good hands, with the unfolding of his teachings. Again, these three days of retreat will follow the template of the first two retreat days, outlined above.
Day 12, Thursday, October 8, the retreat's concluding day, with teachings by Khenpo Sangay Wangdi and Acharya Ani Namgyel Lhamo.
Khenpo Sangay is a very perceptive and approachable practitioner, and also highly realized contemplative, eager to share his wisdom, grounded in practical, engaged Buddhism. Khenpo talks on Two Truths, our precious human life, and accomplishing peace and happiness. 'Khenpo' is the highest academic title, given in Bhutan, and Kenpo Sangay has taught in Nepal, India, Bhutan, and the United States.
Acharya Ani Namgyel Lhamo, a progressive nun versed in Buddhist scriptures with a Master's Degree in Buddhist Philosophy, and a leading light in the Bhutan Nun's Foundation's initiative in promoting nun's education and welfare.
A fresh and passionate voice, Ani aims to "empower and educate Bhutanese girls and women, and to improve living conditions and economic vitality of rural villages, in turn helping to preserve the country's rich Buddhist culture in the face of rapid economic development."
The Bhutan Nuns Foundation wants nuns to be socially engaged participants in society, with opportunities to maximize their personal potentials. In our eight years of being in Bhutan, Ani Namgyel offers us an awakened window into the contemplative society of Bhutan, and especially women's challenges and opportunities.
As we started the 5-Day retreat with a puja and opening ceremonies, we prepare to close the retreat with rich ritual  ceremonies, bringing in the monk and nun community. First, Konjin Gaelyn will lead participants in an evocative process reflecting on how we have changed during these two weeks.
Building on author Joseph Dispenza's invitation (The Way of The Traveler), we each consider ways in which we are now different from the person who first stepped foot in Bhutan.  This closing session will also provide space to consider how we will contribute and approach our families/ communities, upon our return home.
Day 13, Friday, October 9.
After early breakfast, we will hike Tiger's Nest, following the pilgrimage trail, a gentle hike through Blue Pine, Oak, and Hemlock forest, crossing streams and pony trails.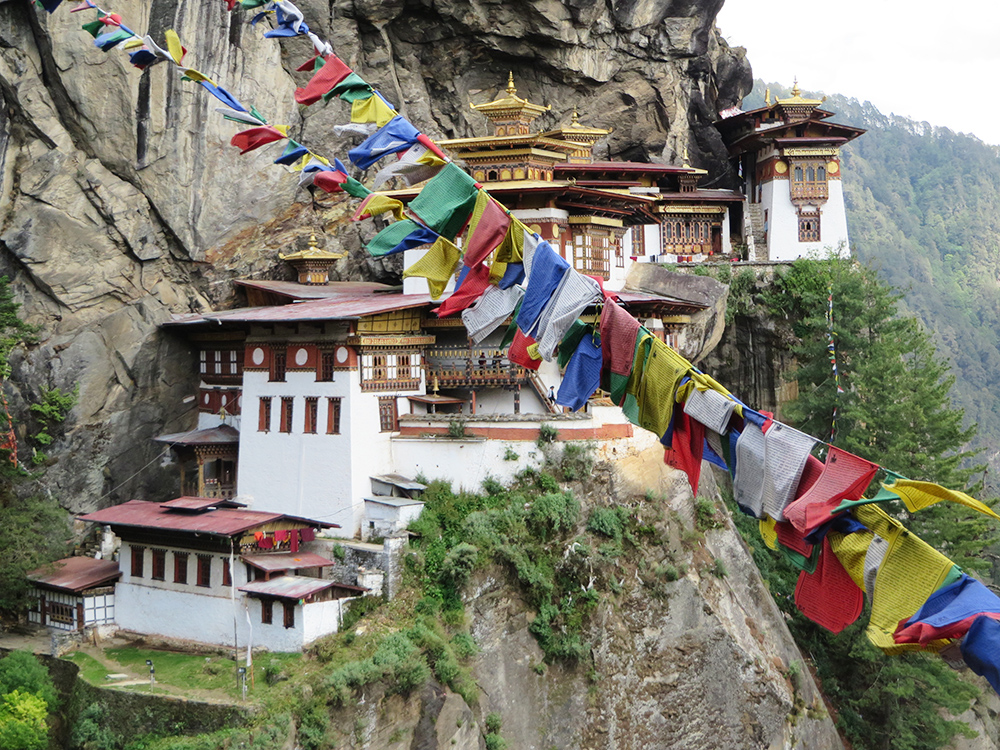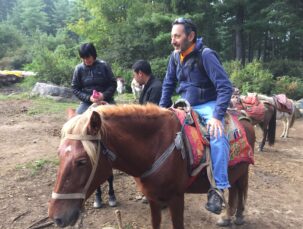 Hiking Taktsang, the iconic Tiger's Nest with its maze of hidden temple rooms in the side of the mountain walls, where Padmasambhava (Guru Rinpoche); Yeshe Tsogyal, the 8th century "Wisdom Lake Queen" and Mother of Tibetan Buddhism;
We will experience the pilgrimage sites of many healers and meditation masters who have come here over the past 13 centuries. Gentle ponies are available for transport, to half-way up the trail.  We will have meditation opportunities inside the inner temples of Tiger's Nest, led by Konjin Gaelyn.
Other sightseeing options are available for those not going up Tiger's Nest. For anyone not wanting to hike Tiger's Nest, there will be optional visits to sacred sites in Paro Valley available, guided by our Bhutan Wisdom Tours knowledgeable staff.
Additional shopping opportunities late afternoon, for those reconsidering acquiring treasures or gifts.
Farewell Dinner.
Day 14, Saturday, October 10.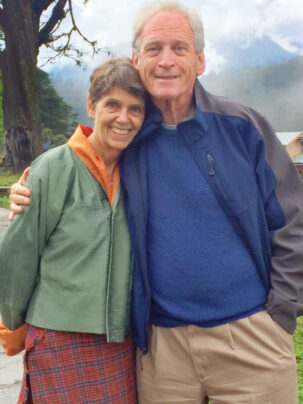 After breakfast, departure to Paro International Airport. Leaving Bhutan begins a new transition. An opportunity opens for integrating our experiences, welcoming ideas and insights, choosing activities that reflect what we have learned.
Consider joining us in this life-changing, rare Bhutan experience!
— Charles and Marla