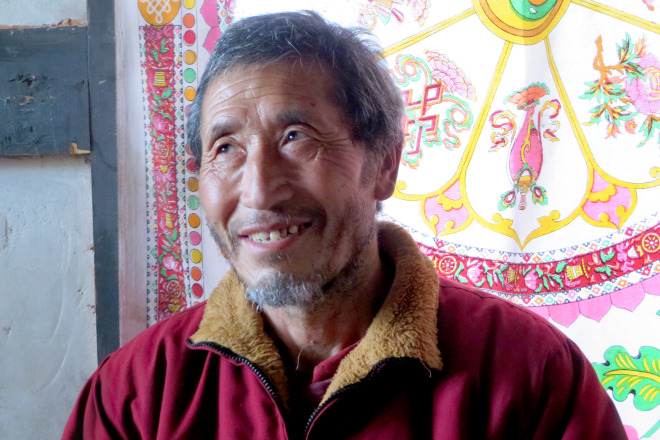 Lama Tshetrim Jamtsho – the only child from a farming family in the remote Tang Valley of central Bhutan, the sacred place where revered Guru Rinpoche meditated in the 8th Century.
Tshetrim was ordained when he was eight years old under the reincarnation of Namkhai Nyingpo Rinpoche. He is the disciple of Dilgo Khyentse Rinpoche who passed on
in 1991, and also Lama Talung Tsete Tulku, who currently resides in Shimla, India.
Lama Tshetrim Jamtsho is 61 years young and has been practicing meditation, mantras, Tibetan Buddhist texts, and Nyingmapa practice of Tantric Buddhist teachings
since he was 30 years old. The small house he is living in, where he serves tea to our group and answers questions, and gives empowerments and transissions of knowledge,
is a "Kidu" (grant) from His Majesty, the present 5th King.