"The world has few secrets left … Bhutan is one of them."
— Katie Hickman, Dreams of the Peaceful Dragon – A Journey into Bhutan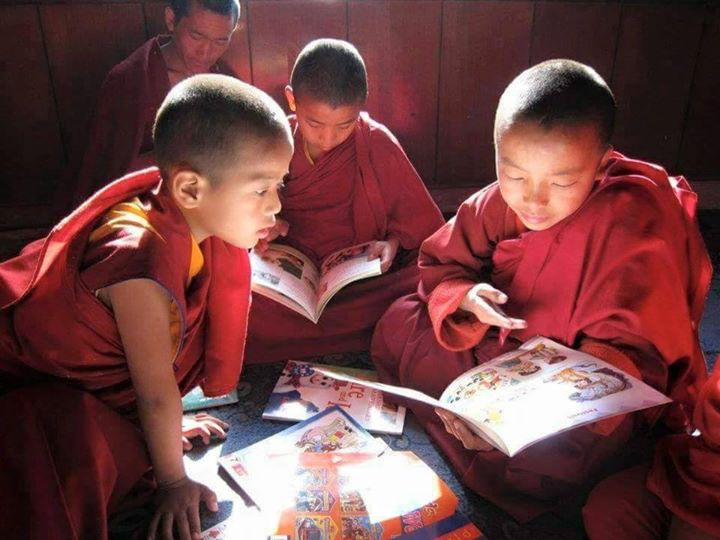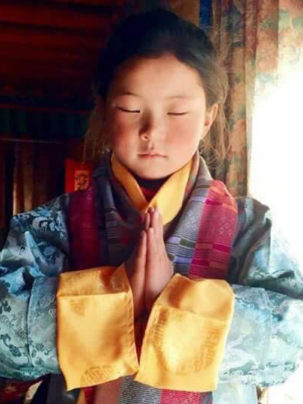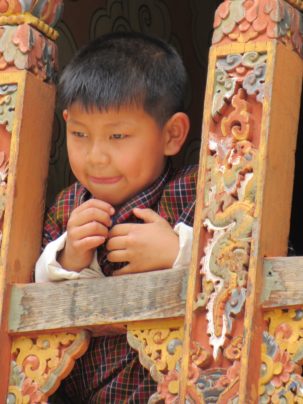 Day 1. Wednesday, Oct 2nd.
Early morning flight from Bangkok, flying over the stunning Himalayas, and arriving in Paro.
After lunch, we will have a presentation by Khenpo Phuntsho Tashi Director of the National Museum, followed by a tour of this jewel-box of Himalayan and Bhutanese artifacts, culture, and tradition, including sacred masks from centuries of mask dance festivals.
On our drive to Thimphu, the capital of Bhutan, we will visit the Sissinang Nunnery, founded and nurtured by Venerable Dilgo Khyentse. We will have time to visit with the nuns, and walk the campus, discovering their daily lives.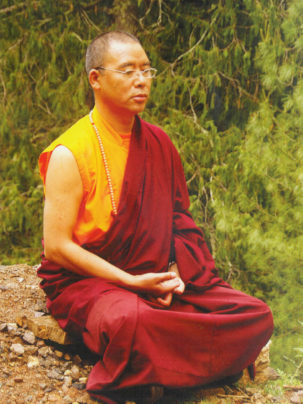 Khenpo Tashi is the author of numerous profound books, including Invoking Happiness, Three Rising Stars: Amazing life stories of the Enlightened Masters of Bhutan, Mindful Living in Bhutan, The Fine Art of Living and Manifesting A Peaceful Death: Primordial Wisdom, and Journey to Liberation: A Life Story of the Buddha According to the Mahayana Tradition.
Khenpo Tashi has traveled throughout the world giving retreats and workshops. He is very approachable, easy to understand, and a delight. Khenpo participated, a decade ago, in the Smithsonian exhibition in Washington D.C. on Bhutan, culture and art. We are very blessed to have his participation, compassion, wisdom, and friendship.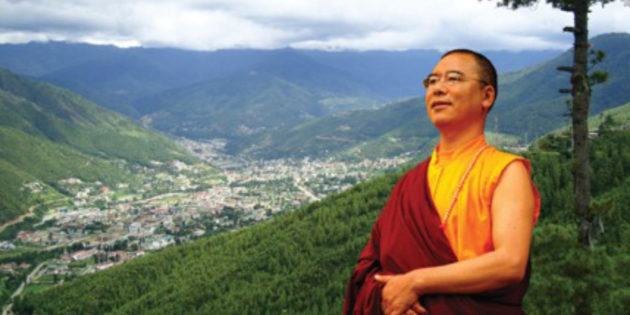 Day 2. Thursday, Oct 3rd.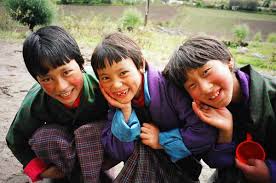 Day touring Thimphu, and the surrounding area. Thimphu is the seat of Bhutan's modern government, the world's youngest parliamentary democracy. The King, the parliament, the Supreme Court and many monasteries, galleries, coffee shops, and some of the best pastry shops in all of the Himalaya, are located here.
We will visit the Choki Traditional School for the Arts in a rural setting, and dedicated to the training of young artisans in the traditional arts, including textiles, wood carving for sacred objects, weaving, painting of sacred images. Most of the youth are orphans, and are from economically disadvantaged areas of Bhutan.
Then we will visit The Royal Textile Museum. Weaving is an integral component of the culture and tradition of Bhutan. The Museum holds an invaluable collection of Bhutanese antique and contemporary textiles.
We will then stroll through the Bazaar stalls, interacting with artists and craftspeople, representing all regions and art genrés of Bhutan. If we have time, we will visit the Memorial Stupa, and circumambulate in procession, interacting with hundreds of Bhutanese pilgrims. This immense memorial was built in 1974 to honor the 3rd King, often regarded as the father of modern Bhutan for the progressive changes he initiated during his reign.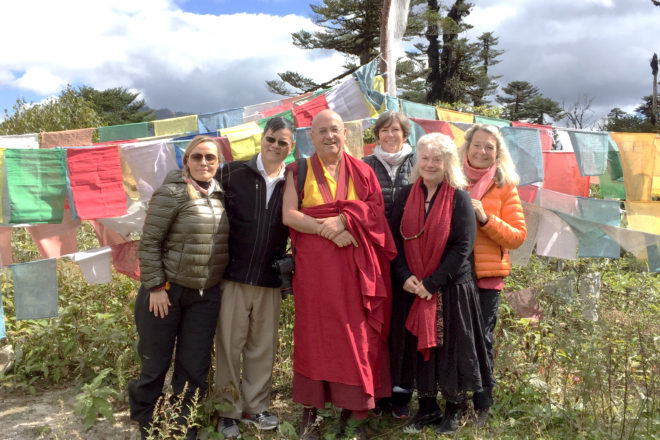 Day 3. Friday, October 4th.
Depart Thimphu for Punakha. On the way, we will reach the storied Dochula Pass (10,300 feet), for spectacular 360 degree views of the Himalaya mountains, forests, and cloud forests. Dochula is a sacred place, where 108 stunning chorten monuments were built by the Queen Grand Mother, honoring Bhutanese and Indian soldiers killed when fighting Indian rebel separatists, in 2003. We will walk among the profound 108 chortens, sometimes shrouded in mysterious clouds.
We will have time to explore and meditate in the nearby meditation sanctuary caves, tucked into the hills, just above Dochula Pass.
We will also visit and have a gentle walk among the red rice paddies to Chimi Lhakhang, the storied and venerable fertility temple. Punakha is in a lovely temperate valley, at lower elevation (4,075 feet), and is the winter home to both the Royal family and the Monk Body, representing the kingdom's 8,000 nuns and monks. Check in to our hotel and explore the area.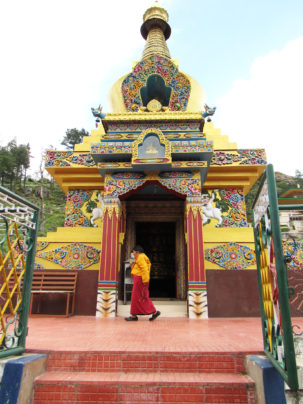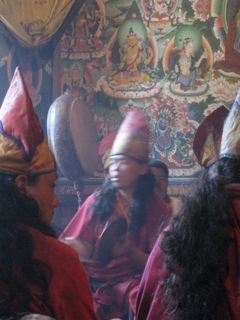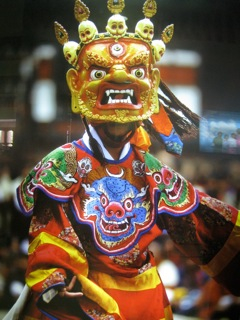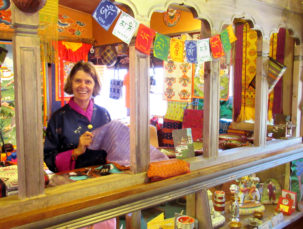 Day 4. Saturday, Oct 5th.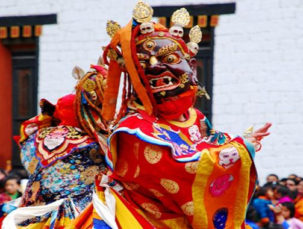 We will attend the annual Wangdue Sacred Dance Masked Festival (Tschechu) , a rare opportunity to see sacred dance rituals from the 8th Century.
Tschechus are spiritual festivals and social gatherings which provide bonding among peoples of spread out villages, and also a way to honor traditional beliefs. It is a stunning pageantry and the Bhutanese come dressed in their most elegant and respectful, traditional clothing.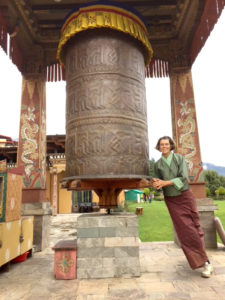 Hike to Yangthong Goenpa, through a magical pathway along fields of buckweat grain and into blue pine, hemlock, and oak forests and many varieties of rhododendrons. The destination is this precious Goenpa temple, a rare and hidden treat for travelers.
The Haa Valley presents nature lovers with a paradise of beauty with unparalleled flora and fauna. October is an ideal time to be outdoors in western Bhutan. Traditional hot stone bath opportunities in the evening. Story-telling and meditation.
Day 5. Sunday, October 6th.
Punakha is the site of the Dechen Phodrang Monastery, the "Palace of Great Bliss", the most spectacular Dzong (fortress) in all of Bhutan. Dzongs are traditional complexes, containing walled temples, monasteries, and governmental offices and scripture libraries.
We will visit the Punakha main monastery, richly filled with tapestries, sacred art, murals and statutes of Buddhas and Guru Rinpoche. Bhutanese and, in fact Buddhists from all over Asia, come here for pilgrimage, to meditate, and to accumulate merit.
The Dzong and Monastery are situated at the juncture of the two great rivers, the Mo Chhu (Mother) and Pho Chhu (Father) rivers. One of the most memorable experiences will be our visit to the legendary and grand Punakha Dzong, the 17th Century fortress. It was the capital and seat of government until 1955. Leisure time will be in the Khuruthang town.
We will also visit the gardens and multiple plazas of the Dzong, and then have an opportunity to visit (and, if you like) to cross the Punakha suspension iron foot bridge, the longest of its kind in Bhutan. It was built for the Lamas of Punakha Dzong, who crossed the river often, to visit nearby villages.
With time permitting, we will visit the scared site of Dho Jhaga Lam.(the rock of Indian Saint) Drubthob Nagi Rinchen (Vanaratna, 1384-1468) a Bengali Pandita and Mahasiddha, reportedly the "last great Indian Pandita to visit Tibet" was born a prince in Sadnagara, near present-day Chittagong district of Bangladesh. At age 8, he received novice ordination from Buddhaghosha and Sujataratna.
The revered Pandita took up his studies and perfected them very quickly. At age 20 he received full ordination from the same two masters, and went to Sri Lanka for six years, where he spent most of his time meditating in seclusion. Upon his return to India, he was greatly praised by the famous scholar Naraditya.
Pandita Rinchen came to Bhutan in search of his mother's reincarnation. His mother had been reborn as a frog due to heinous karma and was trapped within a large rock. To free her, Nagi Rinchen sent lightning to split the rock into two to liberate his mother. This is now called Dho Jhaga Lam (Rock of Indian Saint) in Punakha. We will have conversations with Bhutanese, who deeply believe in the sacredness of everydayness, and in the connectedness of everything.
We will have the precious opportunity (optional) to hike Khamsum Yuelley Namgyel. The gentle trail to Khamsum Chorten, where we can admire this impressive structure and the beautiful view of the valley below. The Chorten was built by Queen mother Ashi Tshering Yangdon. This particular place invites experiencing stunning views of the valleys on the Mo Chhu (mother river).
Day 6. Monday, October 7.
After breakfast, we drive to Paro. On the way, we have a picnic lunch at the gorgeous Royal Botanical Garden.

Free time walking around Paro town, with some of the best cafés, antique stores, artist studios and galleries, in all of Bhutan. Dinner and an engaging conversation with Tshering Tashi. Tshering's father was the consigliere, trusted counselor to the 4th King.
The beloved 4th King is called the Philosopher King. He introduced the concept of Gross National Happiness (GNH) Index, which is a lens through which all development is evaluated with rigor. GNH is also the societal touch-stone where good governance, societal happiness, sustainable development, education and well-being are given the highest aspirations.
There are many lessons Bhutan offers to the world, including 'drala', or spiritual ecology, the way Bhutan goes about interacting with the natural environment, in making the everyday sacred.
The 4th King also introduced English as the unifying language for the Kingdom. In a land where the Bhutanese speak 3–4 languages/dialects, unifying everyone with English-speaking practice has been of great benefit to facilitate communication among the people of various remote regions of Bhutan. Many of the people remain isolated by their mountainous geography.
The result of English speaking and education, is that visitors have accessible dialogues with the majority of Bhutanese under the age of fifty.
Returning to Tshering Tashi, he is an advisor to the 5th King and Royal family, and also a political and cultural historian with immense knowledge to share with our pilgrimage participants.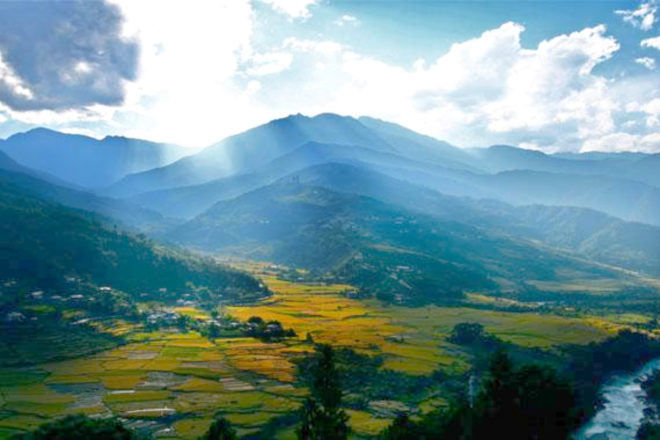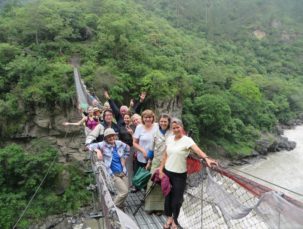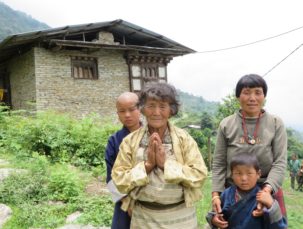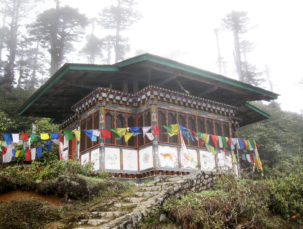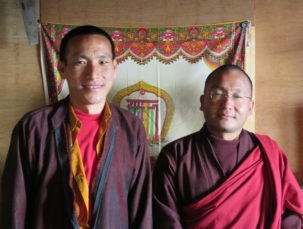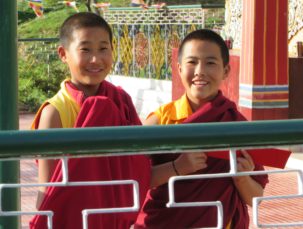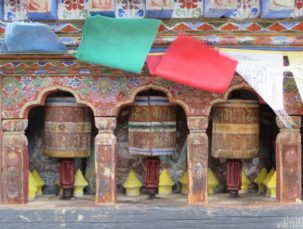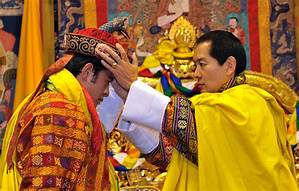 Day 7 – through Day 12. Tuesday, October 8th – Sunday, October 13th.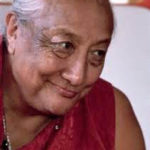 Retreat Week in the Paro area, near Tiger's Nest, called Taktsang, by the Bhutanese.
The 6-Day Retreat will be held at Thekchog Choki Gatsel, founded by His Holiness Dilgo Khyentse Rinpoche.
This is a sacred pilgrimage site, one where Ven. Dilgo Khyentse walked, meditated, and gave ancient transmissions; and a precious place of devotion and inquiry. We are blessed to have this rare opportunity to have the Retreat in such a spacious and peaceful environment.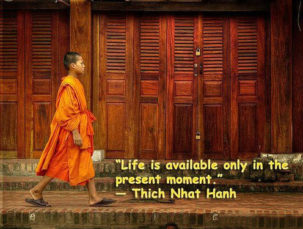 The Retreat will be a time to interact with the Western and Bhutanese teachers, lamas, nuns, monks, and scholars, while they provide teachings, meditation, and engage in conversational dialogues nurturing personal transformation.
One's destination is never a place but a new way of looking at things.
— Playwright and author Henry Miller
The essence of retreat is setting up a boundary … we are talking about a boundary of time, setting up a boundary between past and future, which ideally means we remain in the present.
— Dzongsar Khyentse Rinpoche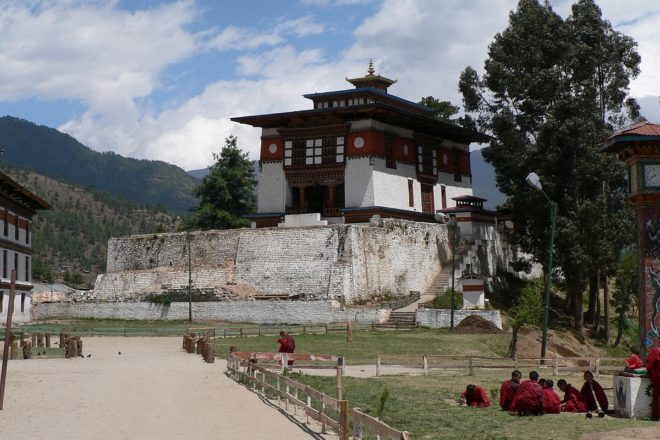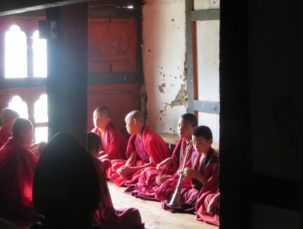 The Retreat Theme: "Opening Doors to the Mysteries of the Heart: Courage and Wise Action in Turbulent Times: Not Knowing, Compassionate Service, Overcoming Fear, and Fierce Generosity"
Western Teachers will be participating fully throughout the Pilgrimage and the Retreat.
This precious six-day retreat in the heart of the last Buddhist kingdom introduces participants to the inner compassion of the human heart through traditional awakened heart practices ( bodhicitta ), cultivating the divine feminine, and looking at nature of mind and wise service.
The retreat will include accessible meditation, teachings, mindful movement experiences, dialogue, and ceremonial celebrations indigenous to the kingdom of Bhutan. Many of the dharma talks will have secular applications into our daily lives.
In the context of current societal individualism and dislocation, and challenges about political, environmental, and social functionality, we will explore the following topics in dialogue, dharma talks, and meditations:
Awakening our connection with all sentient and all living beings, and cherishing them;
Self-compassion as the basis for compassion for others and for the world;
The experience of the awakened heart, bodhicitta, and its cultivation in meditation;
Exploring how compassion practice and gratitude change the brain;
Invoking the power of the Divine Feminine to engender compassion, drawing on the goddess Tara and Dakinis;
Selfless compassion as an engaged path of Integrity and Responsibility;
Social compassion in Bhutan's spiritual ecology of Gross National Happiness
Bringing compassion back home to heal our global community and ecology.
The Retreat Format. The 6-Day retreat will be held at the Dilgo Khytense Monastery and gardens campus, and include walking meditations throughout this sacred, serene place.
The 6-Day Retreat will include an optional morning sit before breakfast, two morning teachings approximately 1-1/2 hours each; two afternoon sessions approximately 1-1/2 hours each; and an early evening check-in assimilating the day's teachings into participants' practice. In addition, there will be related sightseeing during retreat week to sacred sites, keeping the integrity of the retreat week boundaries and continuity of teachings.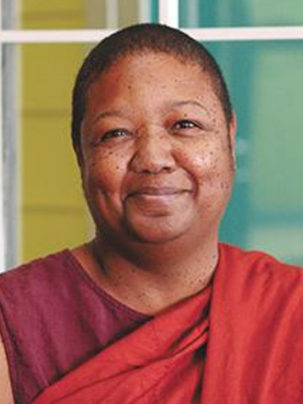 Venerable Dr. Pannavati Bhikkhuni, co-Abbot of Embracing Simplicity Hermitage in Hendersonville, NC .
Ven. Dr. Pannavati, a former Christian pastor, is co-founder and co-Abbot of Embracing Simplicity Hermitage; and Co-Director of Heartwood Refuge, a new intentional community, and residential retreat and conference center in Hendersonville, NC. She is president of the Treasure Human Life Foundation. An African-American, female Buddhist monk ordained in the Theravada and Chan traditions, she remains a disciple of Great Master Kuang Seng, continues Vajrayana empowerments and teachings with beloved Rinpoche Zhaxi Zhouma and received transmission from Roshi Bernie Glassman of Zen Peacemaker.
Ven. Pannavati is both contemplative and empowered for compassionate service. She conducts retreats nationally at over 50 centers and churches each year sharing living truths that are deep, yet apprehendable. She advises the cultivation of both wisdom and compassionate action. She believes is it fine to sit in temples and meditate and pray when things are good; when they are not, we are compelled to get off our pillows and do something. Let our actions line up with our intentions.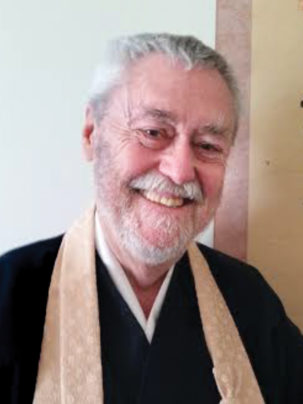 James Myoun Ford Roshi. James Myoun Ford Roshi has walked the spiritual path for more than fifty years. He's danced with Sufis, studied with Gnostics, lived in a Buddhist monastery and was ordained a Zen priest. Later he also ordained as a Unitarian Universalist minister and preached from the high pulpits in old New England churches.
James has reflected on and written books about spirituality and at the same time has worked in the trenches for social justice. He is the author of "If You're Lucky, Your Heart Will Break", "The Book of Mu", co-authored with Melissa Myozen Blacker, and "Introduction to Zen Koans: Learning the Language of Dragons".
He is a co-founder of the Boundless Way Zen network, and was its first school abbot. Today he is the senior priest and resident teacher of the Empty Moon Zen Network. He also serves as consulting minister for the Unitarian Universalist Church in Anaheim, which hosts the Empty Moon Zen sangha.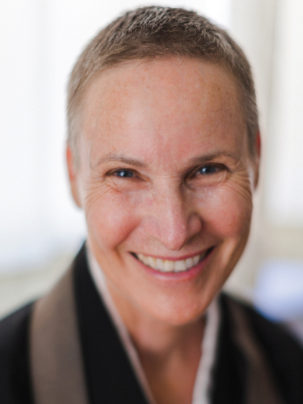 Konjin Gaelyn Godwin Roshi. The Abbot of Houston Zen Center, Setsuan Gaelyn Godwin, is connected nationally and internationally with Buddhist teachers and organizations, and, in addition to her own travels to lead Zen retreats, she brings nationally recognized teachers to Houston for Dharma teaching. She received ordination as a Zen Priest in 1991, from Tenshin Reb Anderson, Senior Dharma Teacher at San Francisco Zen Center. She received Dharma Transmission, also from Tenshin Reb Anderson, in 2003, and was appointed Kaikyoshi (formal recognition from Japan) in 2005. Her Zen lineage is Soto Zen, through Dōgen Zenji, and, ultimately, through Suzuki Shunryu Daiosho, founder of San Francisco Zen Center.
Training: She trained monastically for more than 12 years at Tassajara Zen Mountain Center, plus 6 years in residence at Green Gulch Farm Zen Center. Her Zen training began at San Francisco Zen Center (SFZC) in 1985. Additional Zen training: She trained in Japan, at Hosshinji with Harada Sekkei Roshi in 1991–92, and at Zuioji in 2005; and with Robert Aitken Roshi of the Diamond Sangha in Hawaii in 1995–96.
In 2018 she was appointed as the Director of Soto Zen Buddhism International Center, North America, a department of Soto Zen Buddhism, headquartered in Japan. She is a member of the Soto Zen Buddhist Association, headquartered in the US, and served as the President of the Board. She is also a member of the American Zen Teachers Association, serving on the membership committee, and the Association of Soto Zen Buddhists.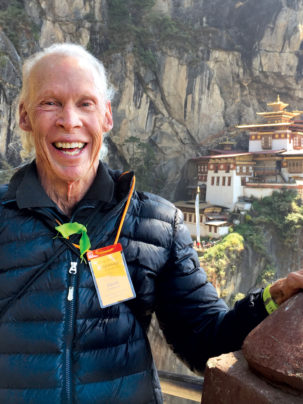 David Roadhouse, Psychotherapist and Triathlete. 
"I first encountered the Dharma in 1974 in attending a seminar with Chogyam Trungpa on "Cutting Through Spiritual Materialism". At the time I was an ordained Presbyterian minister but actually "pretending," which is what spiritual materialism is. The sitting practice has become my life's blood.
I became a student of Dilgo Khyentse in 2000. It is said that when a great teacher passes away, his mind becomes more accessible. What I've discovered in his teachings, especially teaching Vajrayana from the perspective of Mantrayana, which has a powerful simplicity in the cultivation of compassion.
Please see the bios of each of our Bhutanese teachers below on our Teachers Page.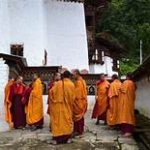 Among sacred sites we will visit during retreat week, is Kyichu Lhakhang in a spectacular natural setting, and meditation master H.H. Dilgo Khyentse's ancestral Home Museum.
Kyichu, the 7th Century sacred shrine, is one of Bhutan's oldest and most beautiful temples. Built by King Songtsen Gampo of Tibet, to pin down the left foot of a giant ogress who was thwarting the establishment of Buddhism in Tibet.
Here we will see a 12 foot statute of Guru Rinpoche, and also a memorial, containing the ashes of Venerable Dilgo Khytense. There is also a 7th Century statute of Sakyamuni, a twin of one cast at the same time, as the one in Lhasa, Tibet. During Retreat Week, we will also visit other sacred pilgrimage sites, with retreat time permitting.
Retreat Week will conclude with a ritual ceremony by the resident monks, and we will all participate in the festivities and blessings.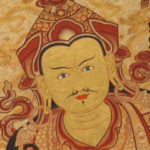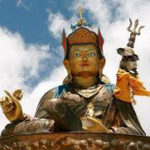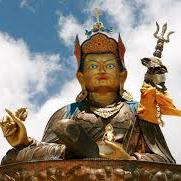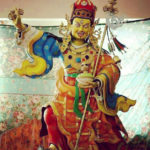 Day 13. Monday, October 14th.
After early breakfast, we will hike Tiger's Nest, following the pilgrimage trail, a gentle hike through Blue Pine, Oak, and Hemlock forest.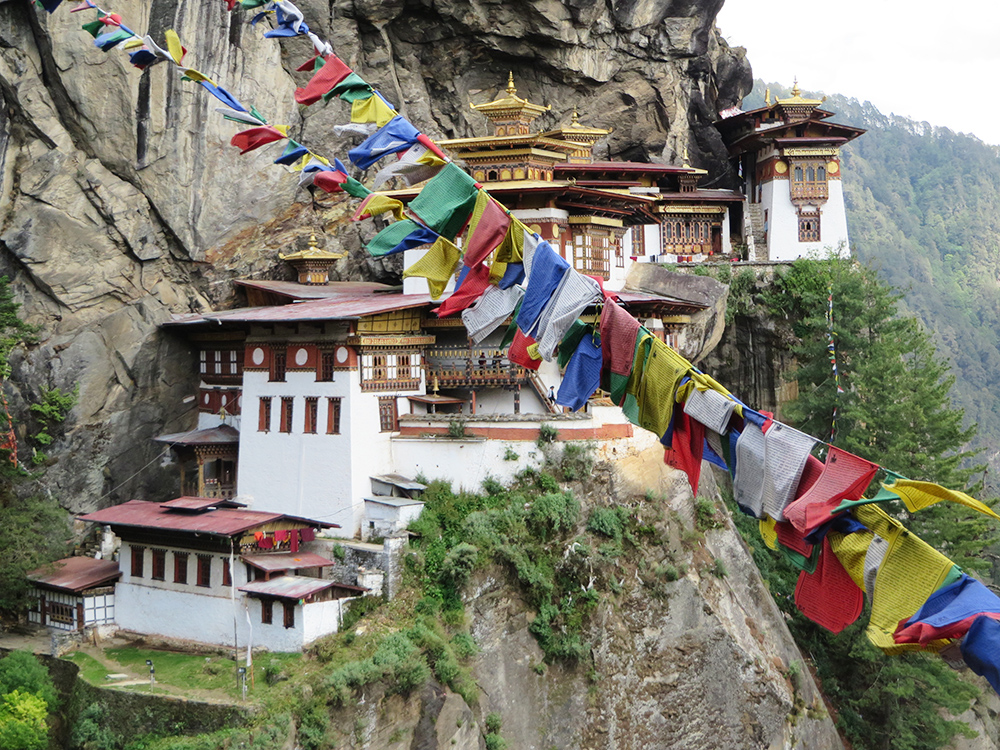 Hiking Taktsang, the iconic Tiger's Nest with its maze of hidden temple rooms in the side of the mountain walls, where Padmasambhava (Guru Rinpoche); Yeshe Tsogyal, the 8th century "Wisdom Lake Queen" and Mother of Tibetan Buddhism; we will experience the pilgrime sites of many healers and meditation masters who have come here over the past 13 centuries. Gentle ponies are available for transport, to half-way up the trail.
Other sightseeing options are available for those not going up Tiger's Nest. For anyone not wanting to hike Tiger's Nest, there will be optional visits to sacred sites in Paro Valley available.
Additional shopping opportunities late afternoon, for those reconsidering treasures or gifts, to acquire.
Farewell Dinner.
Day 14. Tuesday, October 15th.
After breakfast, departure to Paro International Airport. Leaving Bhutan begins a new transition. An opportunity opens for integrating our experiences, welcoming ideas and insights, choosing activities that reflect what we have learned.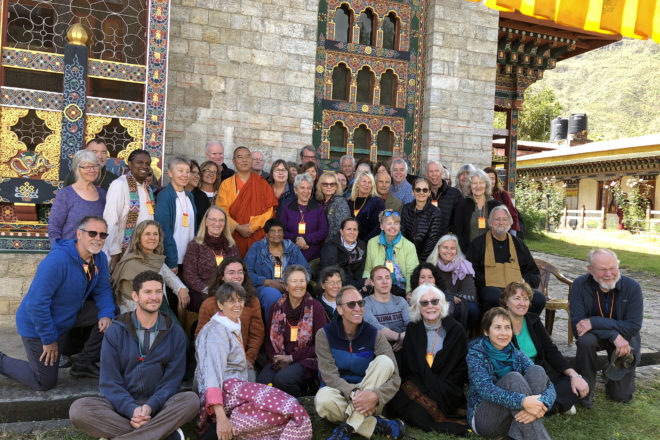 Consider joining us in this life-changing, rare Bhutan experience!
— Charles and Marla
---