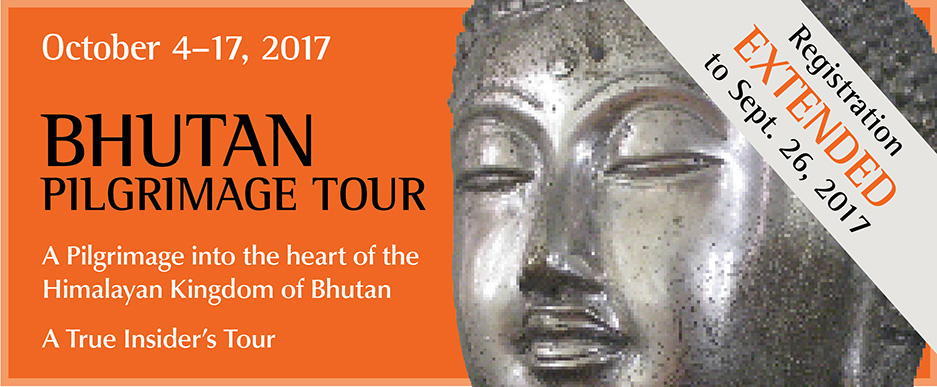 Our 2017 Bhutan Tour and Retreat:
14 days, 13 nights Pilgrimage Tour.
Wednesday, Oct. 4 – Tuesday, October 17, 2017
Includes 5-day practice retreat, October 9–13, 2017, participating in a "conversation" dialogue with Western teachers and Bhutanese lamas, monks and scholars.
Cost of Tour is $3,995.00, per person double occupancy, plus $650.00 retreat registration.
Participants outside the USA can make international bank wire payments. Contact us for details.
View Detailed Tour Itinerary page
View 2017 Bhutan Travel Planner page
Includes:
Welcome Dinner in Paro, Bhutan.
All in-country ground transport.
Bhutan daily Govt. Tariff of $250.00 per day, which includes $65.00 per day contribution toward Bhutan's universal free health care and free education.
All meals & lodging in traditional lodges and hotels in Bhutan. English speaking Bhutanese guides and naturalist.
Donations to: the Retreat host, Lhodrak Kharchu Monastery Foundation; Shechen Ogyen Chodzong Nunnery; Tharpaling Monastery; and various spiritual teachers' benefitting charities.
The Retreat week will include meditations, mindfulness movement experiences, teachings, dialogue, and transmissions.
Participate in 2-day sacred masked dance festival Tshechu, in honor of 8th Century Guru Rinpoche in Bumthang, central Bhutan.
Entry into all Monasteries, Temples, sacred sites, ritual dances and archery events.
Opportunities to interact with Buddhist monks, nuns, lamas, scholars, and village artisans.
Walking meditations in ancient, broad-leaf forests.
Opportunities for bird spotting (600 species of birds) in Bhutan's broad-leaf mature forests.
Also, up close encounters with wild monkeys, baboons, and yaks, can be seen in the Cloud Forests.
Cherished sites we will visit include: Iconic Tiger's Nest; Burning Lake, site of sacred relics; and the Kurjey (the Queen Mother's) Monastery.
Full Itinerary – view here.
Does Not Include:
Airfare from the U.S. to Bhutan; Bhutanese Visa ($40.00), travel insurance (highly recommended), alcoholic beverages, tips, and traditional Bhutanese hot stone baths.
Lodging in Bangkok, the gateway city. Pre-tour lodging at two Bangkok boutique hotels near the Bangkok International Airport, can be recommended.
Roundtrip airfare from Bangkok – Paro, Bhutan – Bangkok. Royal Bhutan Airlines flies into Bhutan. Currently, the published roundtrip fare is $725.00. We will facilitate participants obtaining their Bhutanese Visa and also facilitating your purchase of air tickets from Bangkok into Bhutan, round trip.
Roundtrip airfare from Paro to Bumthang, on Druk Air. Previous years, we have driven at least one way, on the National Highway of Bhutan. This one and only west-east road is undergoing major reconstruction. Last October it took us 3 days to traverse. The road is subject to temporary closures, delaying the itinerary. We have decided – since the road construction is a 3-year project – that this year (2017), it is prudent to fly both ways, Paro-Bumthang, which is a 35 minute flight. The cost is approximately $360.00
Single Occupancy Option add $630.00
Retreat Week Theme: "Nurturing Bodhichitta in Times of Challenge"
Imagine participating in a 5-Day Retreat while being immersed in a culture of complete spiritual intelligence, profound compassion, and respect for nature:
Buddhist contemplative wisdom: Looking deeply into Resilience, Interdependence, and Compassion.
Awakening to courage, wisdom, generosity, and right action in your professional and personal practice.
A conversation on the pathways to Optimism, Gratitude, Altruism, and Mindfulness.
The Nine Domains of Gross National Happiness (GNH) in Bhutan: What we can Learn.
A deepening understanding of the 37 Versus on the Practice of the Bodhisattva.
Being in the Kingdom of Bhutan, a deep reservoir of wisdom and sacred traditions, is a wonderful opportunity to explore and deepen your study of the contemplative mind, and to cultivate your inner wisdom.
Bhutan is a pristine place for retreat and renewal. Situated in the Himalayas between Tibet and India, it is well connected by cell phone and internet transmission. An English-speaking Kingdom with so many delights to discover, we look forward to talking with you about the Pilgrimage-Tour to Bhutan, the 'Land of the Thunder Dragon'.
We encourage you to read the November 2, 2014) New York Times Style Magazine-Travel Section on Bhutan, a marvelous 9-page article by by Jody Rosen, "The Higher State of Being."
Kind regards, and looking forward to hearing from you with Gratitude,
Charles Simmons and Marla Perry-Simmons.
Email: charles@nulltwoTruths.org
Telephone: 520-331-8338