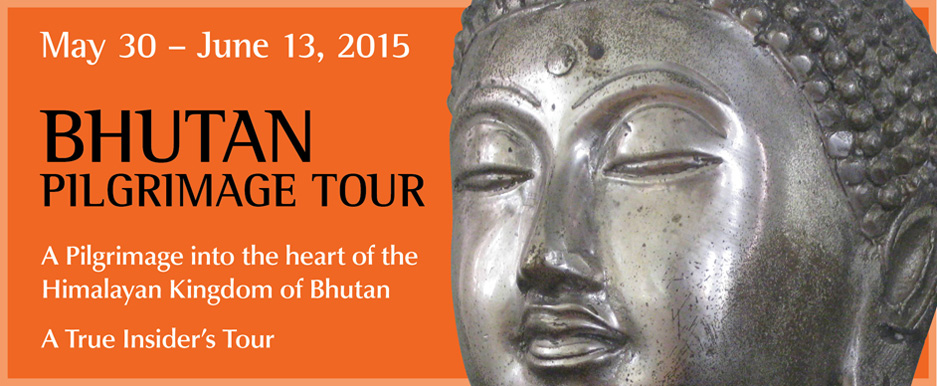 Our 2015 Bhutan Tour:
15 days, 14 nights Pilgrimage Tour.
Saturday, May 30–Saturday June 13, 2015.
Includes optional 3-day trek or alternate activities for non-trekkers.
Cost of Tour is $3,995.00
View Detailed Tour Itinerary page
View 2015 Bhutan Travel Planner page
Includes:
Welcome Dinner in Bumthang, Bhutan, the spiritual heartland of the Kingdom.
In-country flight from Paro, Bhutan to Bumthang and all in-country ground transport.
Bhutan daily Govt. Tariff of $250.00 per day (May days) and $200.00 per day (June days).
All meals & lodging in traditional lodges and hotels in Bhutan. English speaking Bhutanese guides.
All presentations by Bhutanese monks, scholars, and lamas.
Donations to Monasteries, Nunneries, and the Institute for Traditional Medicine.
Entry into all Monasteries, Temples, sacred sites, ritual dances and archery events.
Opportunities to interact with Buddhist monks, nuns, lamas, and scholars.
Walking meditations in ancient, broad-leaf forests.
Participate in Buddha's "Para Nirvana" celebration, an auspicious holy day commemorating Buddha's birth, awakening enlightenment, and death.
3-day optional, gentle wilderness trek to remote villages, glacial lakes, and forest meadows with two nights' catered camping. Alternate activities and sightseeing, for non-trekkers.
Opportunities for bird spotting (600 species of birds) in Bhutan's broad-leaf mature forests.
Also, up close encounters with wild monkeys, baboons, and yaks, can be seen in the Cloud Forests.
Cherished sites we will visit include: Iconic Tiger's Nest, Burning Lake, site of sacred relics, Kurjey (the Queen Mother's) Monastery, the Trongsa Dzong (fortress), the stunning Phojikha Valley, and the pristine Haa Valley with astonishing views of the Himalayan peaks.
Full Itinerary on request.
Does Not Include:
Airfare from the U.S. to Bhutan; Bhutanese Visa ($40.00), travel insurance, alcoholic beverages, tips, and traditional Bhutanese hot stone baths.
Lodging in Bangkok or in other gateway cities, is also not included. Pre-tour lodging at Bangkok boutique hotel, at discounted rates, can be arranged.
Roundtrip airfare from Bangkok-Paro, Bhutan-Bangkok. Royal Bhutan Airlines flies into Bhutan. Currently, the published roundtrip fare is $688.00. Other gateway cities that fly into Paro, Bhutan, include Kathmandu, Nepal, also Singapore, and Kolkata, India. We will facilitate participants obtaining their Bhutanese Visa and also coordinating obtaining air tickets into Bhutan.
Single Occupancy Option add $630.00
Imagine being immersed in a culture of complete spiritual intelligence, including presentations with Bhutanese scholars, monks, and lamas about:
Buddhist contemplative wisdom: Looking deeply into Resilience, Spirituality, and Compassion.
Bringing compassion and resilience into your professional and personal practice.
A conversation into the doors of Optimism, Gratitude, and Mindfulness.
The Nine Domains of Gross National Happiness (GNH) in Bhutan: What we can Learn.
A deepening understanding of the 37 Versus on the Practice of the Bodhisattva.
Being in the Kingdom of Bhutan, a deep reservoir of wisdom and sacred traditions, is a wonderful opportunity to explore and deepen your study of the contemplative mind, and to cultivate your inner wisdom.
Bhutan is a pristine place for retreat and renewal. Situated in the Himalayas between Tibet and India, it is well connected by cell phone and internet transmission. An English-speaking Kingdom with so many delights to discover, we look forward to talking with you about the Pilgrimage-Tour to Bhutan, the 'Land of the Thunder Dragon'.
We encourage you to read the recent (November 2, 2014) New York Times Style Magazine-Travel Section on Bhutan, a marvelous 9-page article by by Jody Rosen, "The Higher State of Being."
Kind regards, and looking forward to hearing from you with Gratitude,
Charles Simmons and Marla Perry-Simmons.
Email: charles@nulltwoTruths.org
Telephone: 520-331-8338