Theravada Buddhism Cultural Immersion. Optional post-Bhutan trip: October 11-18, 

2020

• 8 Days and 7 Nights
$1,550.00 based on Double Occupancy is all inclusive, except for airfare and the $30.00 Cambodia visa fee. Single Occupancy supplement is $450.00. The deposit for the Cambodia trip is $700.00 per person.
Airfare is approximately $360.00 roundtrip (as of January 24, 2020): Bangkok,Thailand – Phnom Penh, Cambodia – Siem Reap, Cambodia – Bangkok: a 'multi-city air itinerary'. The airfare depends on how soon reservations are made. We will coordinate the purchase of the tickets, as we will all fly together on the same dates and times.
We will invoice you for airfare Thailand-Cambodia-Thailand as part of your final payment. Travel insurance is required. We can recommend travel insurance vendors, just ask.
The Tour Cost includes all ground transport, English-speaking guides, airport transfers, museum and temple admissions, 3 meals a day, ground transportation throughout Cambodia, boat river excursions, tuk-tuk rides, bamboo train ride, visits to sacred places, monuments and Angkor Wat, and villages, and visits with artisans.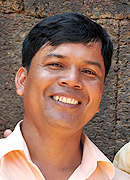 The Cambodia-Angkor Wat Tour will be co-led by Buddhist Roeum Rith, who has been a joyous, devoted Cambodia scholar and experienced guide in all the sacred and historic sites throughout Cambodia, for decades. Roeum, a Cambodian native, who lives in Siem Reap, the town adjacent to the Angkor Wat temple complex, will be presenting talks on Theravada Buddhism, specific sacred sites, and local history and culture. Roeum teaches English at the local high school.
We will fly from Bangkok, Thailand to Phnom Penh, Cambodia on Sunday, October 11th. It is an hour and 15 minute flight. Air tickets will be arranged by Two Truths LLC. You will be invoiced for this airfare in final invoice.
Regarding temperatures and clothing, please note that October-April is the ideal 'dry' season, with fewer visitors, and a lush, green verdant time of year. There are occasional rain sprinkles in the late afternoon. Temperatures can be in the mid 80's at mid-day. We will be in resort hotels with pools and air conditioning, in both Phnom Penh and in Siem Reap, the town adjacent to the UNESCO World Heritage site of Angkor Wat.
Health information. The CDC (Centers for Disease Control), recommends vaccination for Hepatitis A. One can acquire Hepatitis A through contaminated food and water – we will be drinking only bottled water and eating at restaurants considered safe. However, we endorse CDC recommendation regarding Hepatitis A.
Per CDC, the estimated relative risk for acquiring malaria in Cambodia for U.S. travelers, is considered "low." Malaria is not present in the cities of Phnom Penh, Siem Reap, or at the temple complex of Angkor Wat. As a precaution in traveling in other rural areas of Cambodia, we recommend taking reasonable measures to avoid mosquito bites.
You can talk with your doctor about prescription medications for prophylaxis against malaria. The CDC states that "there is no risk of Yellow Fever in Cambodia."
Currency. The Cambodia Riel (KHR) trades about 4,047 (KHR) to 1 U.S. Dollar (USD). The U.S. Dollar is Cambodia's un-official 2nd currency and is widely accepted. Credit cards are accepted in many locations. We will have the opportunity to change into Cambodian (KHR) when we arrive at the Phnom Penh airport.
Dress. Modest dress throughout Cambodia is appropriate. Cottons and fabrics that breathe, are ideal. When entering sacred sites and temples, shoulders and upper arms and legs need to be covered, with knee-length clothing. Shorts and swim suits, of course, pool side. Please bring sun hats, and sun-screen is recommended.
Free Wi-Fi is available in the hotels. Many of our tour participants bring iPads and other electronics, for 'face-time' back home, and also WhatsApp for free communication back home.
Deposits and Payments. Deposits are due for the Cambodia post Tour option concurrent with the timelines for the 2020 Bhutan Pilgrimage. Single Supplement: Please note, that for Cambodia, Single Supplement is an additional $450.00.
Note: The refund policy for Cambodia is the same for Bhutan.
Cambodian cuisine. Very different from Thai and Vietnamese food. In Phnom Penh, in the French Quarter, we will savor flavorful French-Cambodian fusion food. Vegetarian menus are available everywhere.
The Cambodia-Angkor Wat Tour will be limited to 16 participants. Minimum of 8 participants for the tour to go.