"The world has few secrets left … Bhutan is one of them."
— Katie Hickman, Dreams of the Peaceful Dragon – A Journey into Bhutan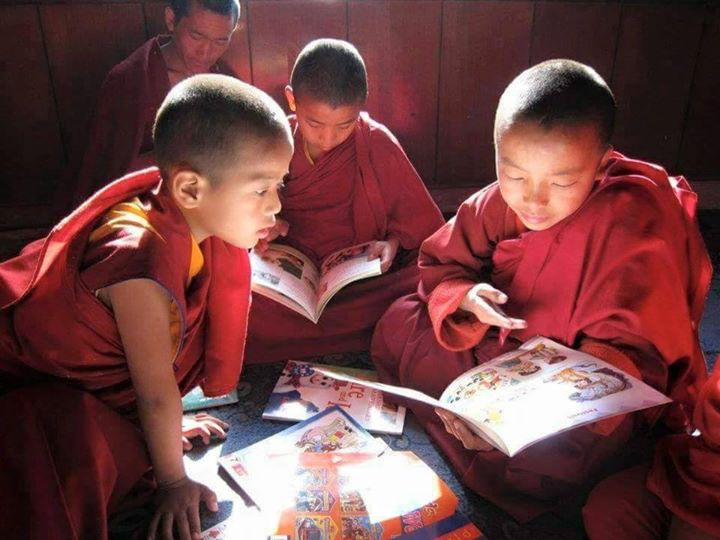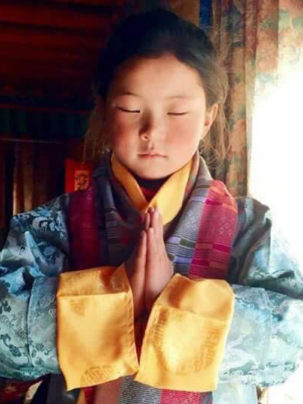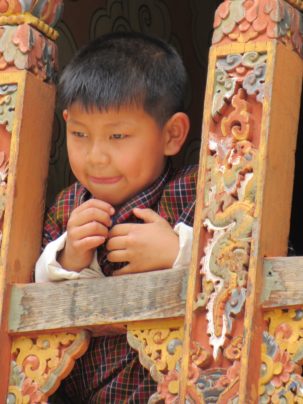 "All travel is a sacred journey to self-discovery and a spiritual practice".
Joseph Dispenza, The Way of The Traveler
15-Day Bhutan Cultural Immersion Itinerary
Pilgrimage in the sacred land of Guru Rinpoche
including 4-Day Retreat: |
"Cultivating Emotional Balance With The World On Fire"
September 30 – October 14, 2022
This itinerary provides a total rural immersion in remote, undiscovered, and rarely visited Eastern Bhutan, Land of The Thunder Dragon.
Perfect for naturalists, trekkers, birders, pilgrims, art historians, Buddhists, meditators, textile enthusiasts, and adventurers at heart. Prayers will not be a tourist show but a part of our activities conducted with all sacredness and spirituality.   Abundance of orchids and monkeys, mangoes, hazelnuts, pomegranates and chili peppers, featured along with eastern Bhutanese hospitality and serenity.
Day 1.
Arrive at Paro from Bangkok. Afternoon, visit Bhutan's National Museum and Paro Dzong, sightseeing and shopping in Paro town.
Days 2–5.
Four day Retreat- teachings by Geshe la Dorji Damdul, close associate and trusted translator to H.H. The Dalai Lama. There will also be teachings by Khenpo Phuntsho Tashi, Ani Namgyel Lhamo and Khenpo Sangay Wangdi. Retreats will be at the monastery of His Holiness Khentse Dilgo Rinpoche. Kichu Lhakhang is one of the oldest and most sacred temples in the country said to have been built on the orders of Tibetan King Songtsen Gampo. The story is that some 108 temples were built across Tibet and the Himalayan region of which two are in Bhutan. Throughout the pilgrimage, we will be visiting 8th and 14th Century temples and holy sites.
Day 6.
Fly to Yonphula, Tashigang, eastern Bhutan. It takes about 45 minutes. Weather permitting, the flight should provide a good view of sacred valleys and mountains that was once home of many treasure revealers. En route, stop at Sherubtse College for a talk on Gross National Happiness; visit the Zangto Pelri Lhakhang nearby the college. Night halt at Lengkhar Lodge, a Bhutanese-Japanese inspired resort. Dinner with the former Home Minister in Bhutan's first democratically elected government.
Day 7.
Visit Radhi, raw silk weaving village, Ranjung Monastery and the Nunnery; after lunch visit the Dzong.
Day 8.
Drive to Senakhar (Sherab Tenzin's abcestral village). The village is on the way to Aja, another sacred pilgrimage site blessed by Guru Rinpoche. Will stay in the homes of communities around the monastery of Reling and participate in the activities of the community and experience life in rural Bhutan. Facilities here will be basic. The main activity will take place at the Reling Monastery. The temple was founded by Ratnalingpa in the 1400s. The monastery currently has 30 monks and is headed Khenpo Karma who will also be teaching and leading a retreat session.
Day 9.
Morning prayers and talk by Sherab Tenzin on the social, cultural, and political fabric of Bhutan: Historical context. Afternoon, attend the sacred dance by monks along with the community. The dances are being performed for the first time and will be instituted into an annual event. This will be followed by a game of archery (Bhutan's national sport) and festivities with the community. An invitation to participate in the rhythms of village farming life and the spiritual life of villagers.
Day 10.
Discover village of Yarab and Thramo, and nature adventure (gentle trek of about three to four hours). The trek passes through a deep pristine forest and should be a treat for nature lovers. Lunch will be hosted by the house of Yarab.
Day 11.
Drive to Mongar, en route visit Sershong lower school, nunnery at Wengkhar, Agriculture Centre. Talks on conservation and spiritual ecology by the Director of the Agriculture Centre. Sightseeing in the breathtaking Kurichhu Valley and Mongar town.   We will be treated to invitations into inner sanctums of sacred temples.
Day 12.
Drive to Khoma village, center of the finest silk weavings in Bhutan. Walks and meditations in the village.   Drive back to Tashigang, en route visit Lemongrass distilling and organic soap making at Sherichu.
Day 13.
Fly to Paro. Visit Tashi Gongphel Hand-made paper factory where a unique kind of paper is used for creating Buddhist manuscripts for monasteries, and a visit to Shechen Orgyen Chodzong Nunnery, founded by Venerable Dilgo Khyentse Rinpoche.
Day 14.
Trek to Taktshang (iconic Tiger's Nest). Farewell Dinner.
Day 15.
Depart for Bangkok.
Bhutan 2022 Tour Facts:
$695.00 4-day retreat, titled "Cultivating Emotional Balance With The World on Fire," led by Geshe Dorji Damdul, Director of the Dalai Lama's Tibet House in Delhi, and translator to many of H.H. The Dalai Lama's books. Retreat costs include stipends-honorariums for the four spiritual Teachers, and rent for the monastery space.
$6,100.00 per person, based on double occupancy, 15-day Pilgrimage Tour, including $40.00 Bhutan visa, which we obtain, once you send us a color copy of your photo Passport page; lodging and meals, all land transportation, English-speaking guides, temples, museums, and monasteries admissions.
For individuals traveling alone, who might prefer double occupancy, we will endeavor to find you a roommate. Four weeks before departure, we send out a detailed questionnaire, so we can source your preferences and any limitations you wish to share with us. For those of you who wish to have a roommate, we use this information to make compatible room matches.
Single Supplement is $895.00
Participants outside the USA can make international bank wire payments. Contact us for details.
Pricing excludes travel insurance and two roundtrip flights: Bangkok-Paro, Bhutan-Bangkok ($935.00) and Paro-Yongphula (Eastern Bhutan)-Paro ($399.00). You would pay this separately to Two Truths LLC, and we would obtain your flight tickets.
We can recommend a number of trusted travel insurance companies. We recommend you use frequent flier points to Bangkok, if you have them. Otherwise, we can assist you with finding relatively economical airfares. Search JustFly.com and or SkyScanner.com.
Obtaining travel insurance when you purchase your international airline tickets might be the most effective and affordable coverage. You may also look into what travel insurance your credit card offers.
Pricing also excludes your time in Bangkok, our exotic, vibrant inexpensive Thai gateway city. The family-run Orchid boutique hotel is approximately $35.00 per night. We will be providing a list of Bangkok activities a month before departure. Typically, small groups buddy-up to explore Bangkok sites of interest.
2022 Bhutan Travel Planner
Why Bhutan? Called the Land of the Thunder Dragon, the Kingdom of Bhutan is the last intact, completely Buddhist nation and society in the Himalayas. Sunday, January 13, 2013 in a New York Times article called "The 46 Places to go in 2013," Bhutan was featured as #5, titled: "A pristine Buddhist enclave opens, with care." And on November 2, 2014, the New York Times featured a 9-page article on the Kingdom . In 2018 Bhutan also made the New York Times' list at #9 of 53 places in the world as "compelling and travel worthy."
A pristine and serene land known for its profound Bhutanese hospitality, generosity, kindness and unique architecture, Bhutan only opened up to television and to the internet in 1999. Most Bhutanese speak at least three languages, including English, and so there is an ease, visiting and conversing with the locals, in markets, monasteries, and in the villages.
Three of Bhutan's most important contributions for outsiders to experience are:
Their Gross National Happiness (GNH) concept and initiatives, launched forty years ago, which is now being pollinated and embraced in the world: it is the filter through which the Bhutanese assess all development projects and opportunities. The Bhutanese have rejected offers from the Chinese and Japanese, for tens of millions of dollars, to open mountaineering to their highest peaks. No amount of dollars or gold can change this society's commitment to honor the sacredness of the Bhutanese Himalaya. Climbers are simply not allowed to climb peaks where the deities have lived for eons.
Bhutan's very special and gentle "secular Buddhism" and approach to compassion and mindfulness, which has vast wisdom and secular applications for us Westerners, in finding The Middle Way. At the same time, Tibetan Buddhism is well preserved in Bhutan, has great strength and is practiced in all its full, rich complexity, and is available in an auspicious way, to all curious pilgrims and travelers to the Kingdom.
Bhutan's stunning landscapes (three micro-climates: alpine; temperate; and sub-tropical) and vast national parks, are populated with lush, broad-leaf forests, cloud forests, immense bio-diversity: 300 species of medicinal plants, 5,400 plant species altogether; 46 species of rhododendrons; a great variety of birds, with 670 bird species recorded; and an abundance of protected mammals with wildlife corridors, including Bengal tigers, snow leopards, Himalayan Black bears, pandas, many varieties of primates, blue sheep, musk deer, water buffaloes, and yak. Yaks in the road … sitting and sunning themselves, on the "national highway."
It has been said that "Bhutan could become just like any other country, but no other country could be like Bhutan." Many of our past tour participants have characterized their experience with us in Bhutan as "transformational."
Retreat Theme:
"Cultivating Emotional Balance With The World On Fire"
Lead teacher Geshe Dorji Damdul, Director of the H.H. The Dalai Lama's Tibet House in Delhi, India, and trusted translator of many of the Dalai Lama's books, will be sharing his deep wisdom and compassion with our group. The Retreat will be held at the Venerable Dilgo Khytense Rinpoche's Monastery in Paro, Western Bhutan, one of Bhutan's sacred valleys.
This precious four-day retreat in the heart of the last in-tact Buddhist kingdom introduces the visitor to the inner compassion of the human heart through traditional awakened heart practices (bodhicitta) and looking at the nature of mind and wise service. The retreat will include accessible meditation teaching and mindful practices, secular insights into deep ethical and ecological truths,and ceremonial celebrations indigenous to the kingdom of Bhutan.
In the context of current societal individualism and dislocation, and challenges about political, environmental, and social functionality, we will explore the following topics in dialogue, dharma talks, and meditations:
Awakening our connection with all sentient and all living beings, and cherishing them
Understanding and transforming the mind
Clear seeing: meditating on the basis of Mind; encountering suchness
Opening the heart: meditating on compassion and loving kindness
The world is our sangha: meditating on joy. meditating on equanimity
The Six Perfections (Parmitas); the dedication of all merits
Being wisely kind to yourself
Cultivating altruistic intention toward others
Cultivating fearlessness and nurturing unshakable compassion
There will be an abundance of time for questions and answers, dialoguing, and meditation, throughout.
Geshe la Dorji, is a nurturing, gentle spirit and is the personification of "strong back, soft front," the la as a way to be in the world.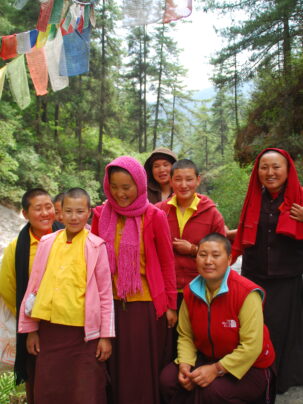 Bhutan is a pristine place for retreat and renewal. Situated in the Himalayan foothills between Tibet and India, it is well connected by cell phone and internet transmission. An English-speaking Kingdom with so many delights to discover, we look forward to talking with you about the Pilgrimage-Tour to Bhutan, the 'Land of the Thunder Dragon.'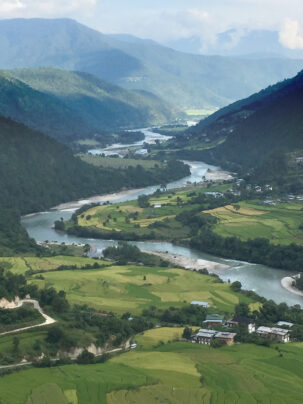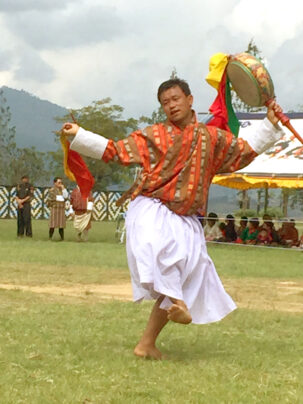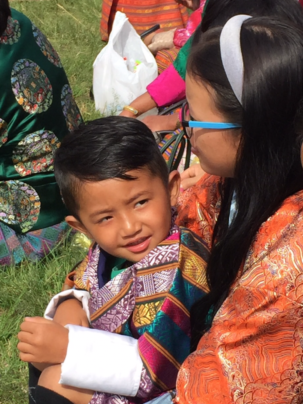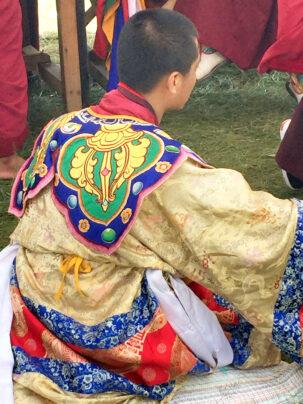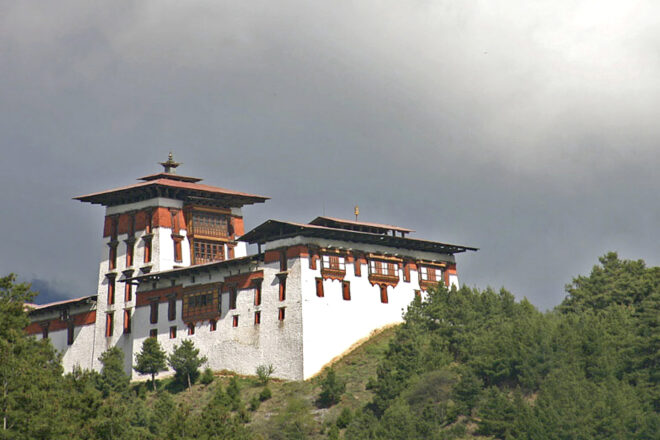 There will be an abundance of time for questions and answers, dialoguing, and meditation, throughout.
Geshe la Dorji, is a nurturing, gentle spirit and is the personification of "strong back, soft front,"the la as a way to be in the world.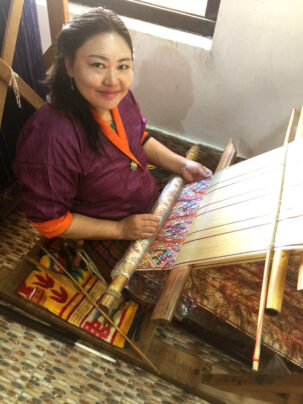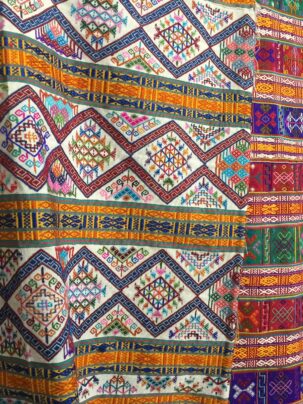 We will visit traditional weaving villages with the best prices for Himalayan artifacts, masks, ritual objects, textiles, and handicrafts, located in old growth forests. It has been a favorite stop and shopping venue for many of our tour pilgrims during our 2015 pilgrimage tour.
Altogether, Bhutan has 84% of its land with forest canopy in tact, according to the World Bank, and is one of the countries with most forest cover and the world's only carbon negative country, due to the Buddhist society's commitment to both 'spiritual ecology and also filtering all development through the lens of Gross National Happiness. Bhutan has built sustainability into its national identity.
We will spend several late afternoons hiking, journaling, and relaxing.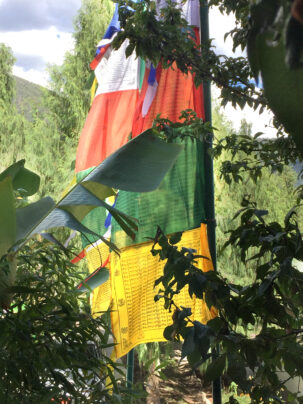 As we get closer to Paro, we hope to stop at the Sissinang, Shechen Orgyen Choldzong Nunnery, founded and supported by Venerable Dilgo Khytense Rinpoche after he fled Tibet. Sissinang is one of our favorite encounters. We love visiting with the nuns and seeing their latest projects. There are 180 nuns in residence, ages 15 to 70 years old.
Eleven of the nuns have received full ordination. The flourishing of Sissinang Nunnery as a place for education of women is a revolutionary step in the establishment of equality for women practitioners in the East.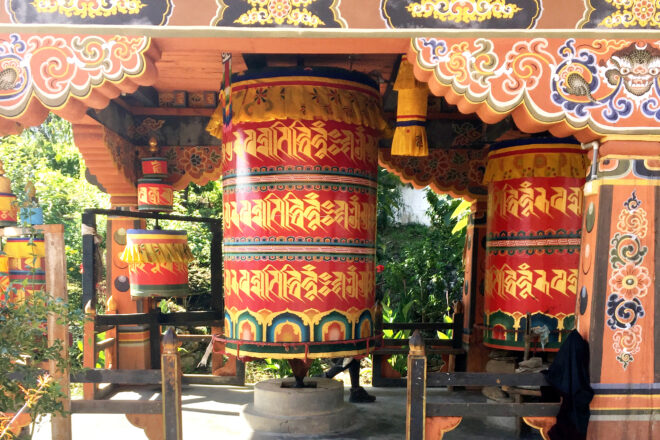 Retreat will be held at Venerable Dilgo Khytense's Monastery campus, outside Paro, Bhutan, where we are the invited guests. Retreat teachings by His Eminence, Geshe Dorji Damdul.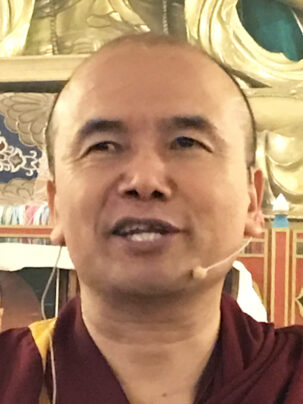 Geshe Dorji Damdul
Geshe la is the Director of The Tibet House, in Delhi, the Cultural Centre founded in 1965 and sponsored and supported by His Holiness, The Dalai Lama. Geshe la, a Tibetan monk and scholar, and is a close associate of the Dalai Lama, and his primary translator for many of his works.
In his own right, Geshe la is a highly evolved teacher, and Marla and I benefitted in being in his teachings for seven days, at the Deer Park Institute last month, after Bhutan, when Geshe la presented Masters' level course from ancient 5th Century Nalanda, on the Heart Sutra, compassion, and taming the Mind.
Geshe la will continue the Retreat Theme: "Cultivating Emotional Balance With The World On Fire", pursuing the Buddhist and secular topics outlined above, with his own inclusive style of thought provoking robust dialogue, inviting in threads of questions and answers. Geshe la, in working over the decades with the Dalai Lama, and also with his own disciplined training in logic and discourse, is a master. We are in good hands, with the unfolding of his teachings.
The retreat's concluding day, with teachings by Khenpo Sangay Wangdi and Acharya Ani Namgyel Lhamo.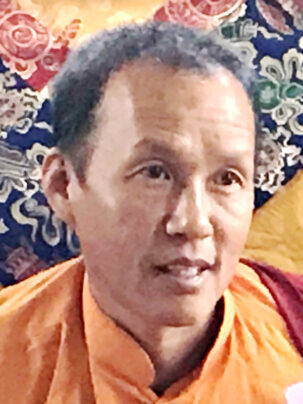 Khenpo Sangay Wangdi
Khenpo Sangay is a very perceptive and approachable practitioner, and also highly realized contemplative, eager to share his wisdom, grounded in practical, engaged Buddhism. Khenpo talks on Two Truths, our precious human life, and accomplishing peace and happiness. 'Khenpo' is the highest academic title, given in Bhutan, and Kenpo Sangay has taught in Nepal, India, Bhutan, and the United States.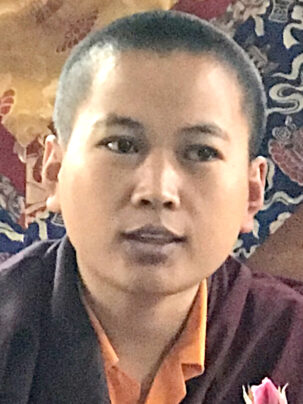 Ani Namgyel Lhamo
Khenpo Sangay is a very perceptive and approachable practitioner, and also highly realized contemplative, eager to share his wisdom, grounded in practical, engaged Buddhism. Khenpo talks on Two Truths, our precious human life, and accomplishing peace and happiness. 'Khenpo' is the highest academic title, given in Bhutan, and Kenpo Sangay has taught in Nepal, India, Bhutan, and the United States.
Acharya Ani Namgyel Lhamo, a progressive nun versed in Buddhist scriptures with a Master's Degree in Buddhist Philosophy, and a leading light in the Bhutan Nun's Foundation's initiative in promoting nun's education and welfare.
A fresh and passionate voice, Ani aims to "empower and educate Bhutanese girls and women, and to improve living conditions and economic vitality of rural villages, in turn helping to preserve the country's rich Buddhist culture in the face of rapid economic development."
The Bhutan Nuns Foundation wants nuns to be socially engaged participants in society, with opportunities to maximize their personal potentials. In our eight years of being in Bhutan, Ani Namgyel offers us an awakened window into the contemplative society of Bhutan, and especially women's challenges and opportunities.
As we started the 4-Day retreat with a puja and opening ceremonies, we prepare to close the retreat with rich ritual ceremonies, bringing in the monk and nun community. Participants will be led in an evocative process reflecting on how we have changed during these two weeks.
---
Building on author Joseph Dispenza's invitation (The Way of The Traveler), we each consider ways in which we are now different from the person who first stepped foot in Bhutan. This closing session will also provide space to consider how we will contribute and approach our families/ communities, upon our return home.
After early breakfast, we will hike Tiger's Nest, following the pilgrimage trail, a gentle hike through Blue Pine, Oak, and Hemlock forest, crossing streams and pony trails.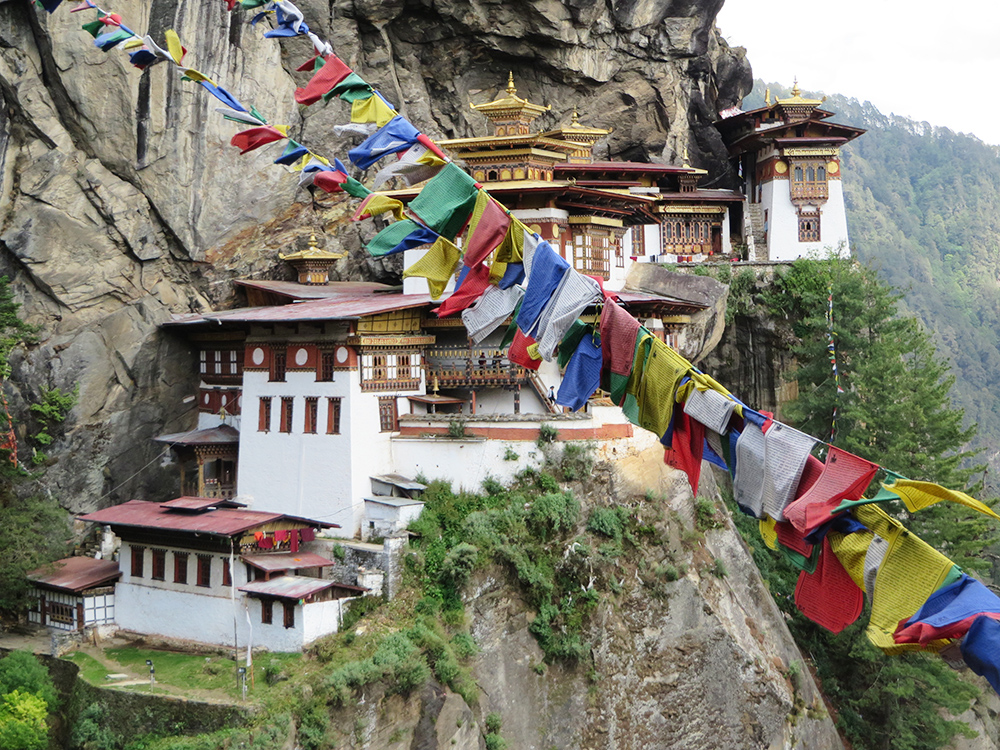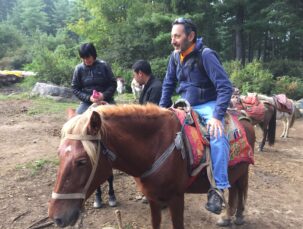 Hiking Taktsang, the iconic Tiger's Nest with its maze of hidden temple rooms in the side of the mountain walls, where Padmasambhava (Guru Rinpoche); Yeshe Tsogyal, the 8th century "Wisdom Lake Queen" and Mother of Tibetan Buddhism;
We will experience the pilgrimage sites of many healers and meditation masters who have come here over the past 13 centuries. Gentle ponies are available for transport, to half-way up the trail. We will have meditation opportunities inside the inner temples of Tiger's Nest.
Other sightseeing options are available for those not going up Tiger's Nest. For anyone not wanting to hike Tiger's Nest, there will be optional visits to sacred sites in Paro Valley available, guided by our Bhutan Wisdom Tours knowledgeable staff.
Additional shopping opportunities late afternoon, for those reconsidering acquiring treasures or gifts.
Farewell Dinner.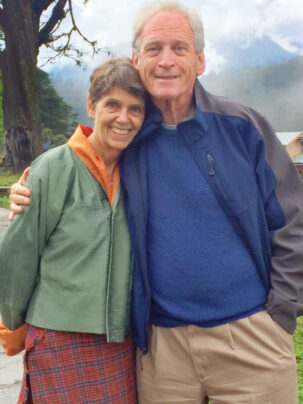 After breakfast, departure to Paro International Airport. Leaving Bhutan begins a new transition. An opportunity opens for integrating our experiences, welcoming ideas and insights, choosing activities that reflect what we have learned.
Consider joining us in this life-changing, rare Bhutan experience!
— Charles and Marla
Additional Notes:
Our four teachers will be complimented by a fifth teacher: Bhutan itself, with many lessons for all of us. Throughout our unfolding journey, we will be led in meditations and exercises, contributing to the sacredness of our pilgrimage. Bhutan, situated between India and Tibet, is a pristine place for retreat and renewal.
Early morning flight from Bangkok, Thailand, flying over the stunning Himalayas, and arriving in Paro, Bhutan.
On a clear day we will see the Mount Everest range.
We will have a presentation by Khenpo Phuntsho Tashi, Director Emeritus of the Bhutan National Museum, followed by a tour of this jewel-box of Himalayan and Bhutanese artifacts, culture, and tradition, including sacred masks from centuries of mask dance festivals. The Museum building once served as the watchtower for the Paro Fortress, guarding against Tibetan incursions in the 16th Century.
Khenpo Tashi has presented to our groups for years, and is a bridge between the contemplative community and the dynamic changing Buddhist culture and society. He is the author of numerous profound books, including Invoking Happiness, Three Rising Stars: Amazing life stories of the Enlightened Masters of Bhutan, Mindful Living in Bhutan, The Fine Art of Living and Manifesting A Peaceful Death: Primordial Wisdom, and Journey to Liberation: A Life Story of the Buddha According to the Mahayana Tradition.
Khenpo Tashi has traveled throughout the world giving retreats and workshops. He is very approachable, easy to understand, and a delight. Khenpo participated in the Smithsonian's 42nd Folklife Exhibition, featuring Bhutan's culture and art. We are very blessed to have his participation, compassion, wisdom, and friendship.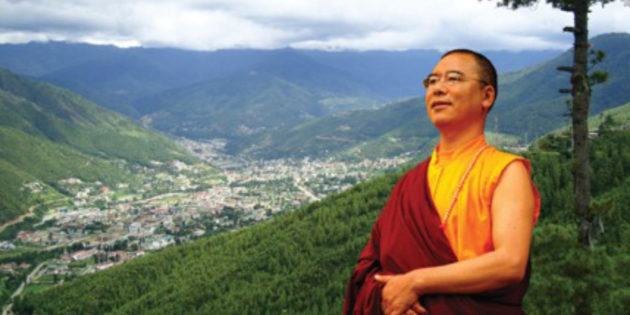 Khenpo Phuntsho Tashi
Late afternoon stroll in Paro Valley, a verdant setting cradled in gentle mountains with red rice paddy fields, our introduction to traditional farmhouses and the astonishing Bhutanese-Tibetan architecture.
Enjoy mingling with locals in Paro town's artisan shops, galleries, and cafés.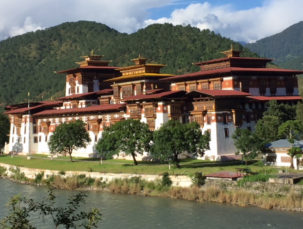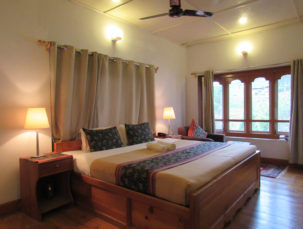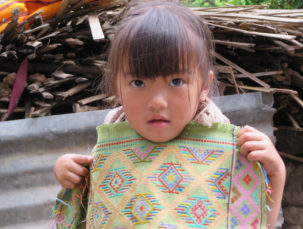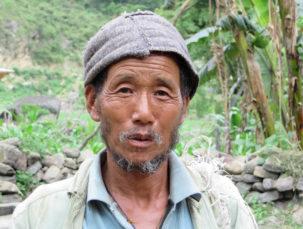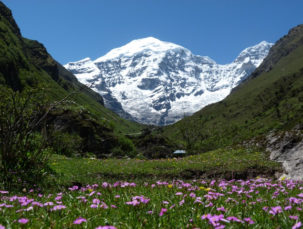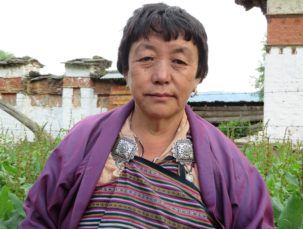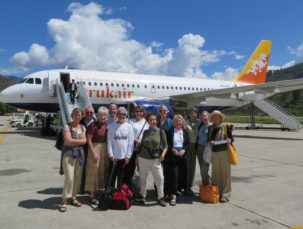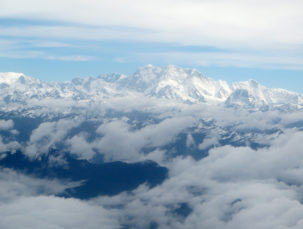 We encourage you to read the November 2, 2014 New York Times Style Magazine-Travel Section on Bhutan, a marvelous 9-page article by by Jody Rosen, "The Higher State of Being."
Kind regards, and looking forward to hearing from you with Gratitude,
Charles Simmons and Marla Perry-Simmons.
Email: charles@nulltwoTruths.org