Registration Extended until September 16!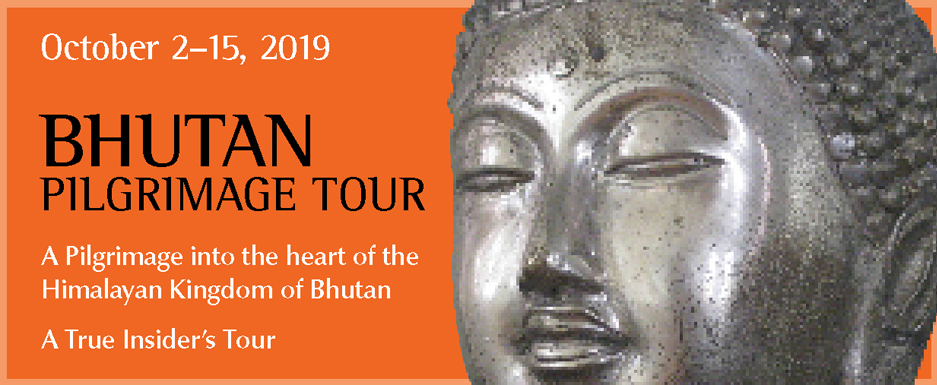 Our 2019 Bhutan Pilgrimage Tour and Retreat:
14 days, 13 nights Pilgrimage Tour.
Wednesday, Oct. 2 – Tuesday, October 15, 2019
Includes 6-day practice retreat, October 8–13, 2019 participating in a "conversation" dialogue, Dharma talks and meditation with Western teachers and Bhutanese lamas, monks and scholars.
Cost of Tour is $4,350.00, per person double occupancy. Single Occupancy Supplement is $795.00. For those who wish to have a roommate, we will endeavor to match you with a compatible person by August, 2019.
6-Day Retreat: $795.00 retreat registration.
Participants outside the USA can make international bank wire payments. Contact us for details.
View Detailed Tour Itinerary page
View 2019 Bhutan Travel Planner page
View Optional Chiang Mai, Thailand pre-Bhutan Trip and Cambodia and Angkor Wat – Post-Bhutan Trip and Cambodia Travel Planner.
Includes:
Welcome Dinner in Paro, Bhutan.
All in-country ground transport.
Bhutan daily Govt. Tariff of $250.00 per day, which includes $65.00 per day contribution toward Bhutan's universal free health care and free education.
All meals & lodging in traditional lodges and hotels in Bhutan. English speaking Bhutanese guides and naturalist.
Donations to: the Retreat host, Thekchog Chokyi Gatsel Monastery, founded by Dilgo Khyentse Rinpoche; Shechen Ogyen Chodzong Nunnery; and various spiritual teachers' benefitting charities.
The Retreat week will include meditations, mindfulness movement experiences, teachings, dialogue, and transmissions.
Experience a sacred masked dance performance, in honor of 8th Century Guru Rinpoche.
Entry into all Monasteries, Temples, sacred sites, ritual dances and archery events.
Opportunities to interact with Buddhist monks, nuns, lamas, scholars, and village artisans.
Walking meditations in ancient, broad-leaf forests.
Opportunities for bird spotting (600 species of birds) in Bhutan's broad-leaf mature forests.
Also, possible up close encounters with wild monkeys, baboons, and yaks, which can be seen in the Cloud Forests habitats.
Cherished sites we will visit include: Iconic Tiger's Nest, site of sacred relics; and Druk Wangyel Choeten at Dochula Pass.
Full Itinerary – view here
Does Not Include:
Airfare from the U.S. or other departure countries to Bhutan; Bhutanese Visa ($40.00), travel insurance (highly recommended), alcoholic beverages, tips, and traditional Bhutanese hot stone baths.
Lodging in Bangkok, the gateway city. Pre-tour lodging at two Bangkok boutique hotels near the Bangkok International Airport, can be recommended, for approximately $36.00 per night.
Roundtrip airfare from Bangkok – Paro, Bhutan – Bangkok. Royal Bhutan Airlines flies into Bhutan. Currently, the roundtrip fare is approximately $800. We are awaiting final prices which will be published by the airline in May. We will facilitate participants obtaining their Bhutanese Visa and also facilitating your purchase of air tickets from Bangkok into Bhutan, round trip.
Single Occupancy Option add $795.00
Retreat Week Theme: "Opening Doors to the Mysteries of the Heart: Courage and Wise Action in Turbulent Times: Not Knowing, Compassionate Service, Overcoming Fear, and Fierce Generosity"
Western teachers will be participating fully throughout the Pilgrimage and the Retreat at the monastery founded and nurtured by Dilgo Khyentse.
This precious six-day retreat in the heart of the last Buddhist kingdom introduces the visitor to the inner compassion of the human heart through traditional awakened heart practices ( bodhicitta ), cultivating the divine feminine, and looking at the nature of mind and wise service.. The retreat will include accessible meditation teaching and mindful practices, and ceremonial celebrations indigenous to the kingdom of Bhutan.
In the context of current societal individualism and dislocation, and challenges about political, environmental, and social functionality, we will explore the following topics in dialogue, dharma talks, and meditations:
Awakening our connection with all sentient and all living beings, and cherishing them;
Self-compassion as the basis for compassion for others and for the world;
The experience of the awakened heart, bodhicitta, and its cultivation in meditation;
Exploring how compassion practice and gratitude changes the brain;
Invoking the power of the Divine Feminine to engender compassion, drawing on the goddess Tara and Dakinis;
Selfless compassion as an engaged path of Integrity and Responsibility;
Social compassion in Bhutan's spiritual ecology of Gross National Happiness;
Bringing compassion back home to heal our global community and ecology.
Bhutan is a pristine place for retreat and renewal. Situated in the Himalayan foothills between Tibet and India, it is well connected by cell phone and internet transmission. An English-speaking Kingdom with so many delights to discover, we look forward to talking with you about the Pilgrimage-Tour to Bhutan, the 'Land of the Thunder Dragon.'
We encourage you to read the November 2, 2014 New York Times Style Magazine-Travel Section on Bhutan, a marvelous 9-page article by by Jody Rosen, "The Higher State of Being."
Kind regards, and looking forward to hearing from you with Gratitude,
Charles Simmons and Marla Perry-Simmons.
Email: charles@nulltwoTruths.org
Telephone: 520-331-8338