Theravada Buddhism Cultural Immersion. Optional post-Bhutan trip: October 24-31 2018 • 8 Days and 7 Nights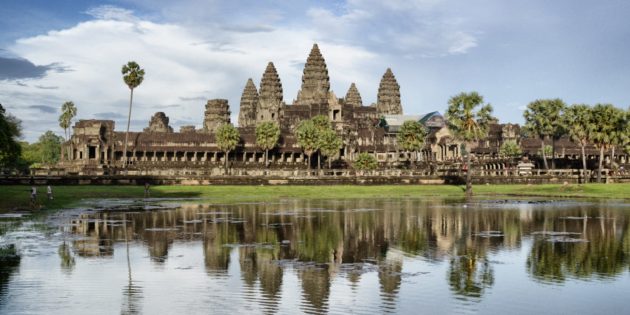 The perfect 'book-end' contrast between Tibetan Buddhism practiced in Bhutan, and the Theravada Buddhism practiced in Cambodia. This profoundly insightful experience will be co-led by Roeum Rith, a devout Theravada Buddhist practitioner and cultural guide.
French archeologist George Groslier wrote this upon his survey of Banteay Chhmar complex in 1914:
"… of all the Khmer monuments that they had explored, Banteay Chhmar was the most ruined, the largest, the most chaotic … and the most indecipherable."
Upon his subsequent survey visit, he wrote:
"It took me ten days of uninterrupted work, from dawn to dusk, to survey Banteay Chhmar. No other temple in Cambodia is so vast or lies in such ruin … no where else have I felt such deep emotion, studying the stones on site and re-erecting them one by one on paper."
Day 1. Wednesday, October 24.
1-1/4 hour morning flight from Bangkok to Phnom Penh and hotel check-in, in the storied French Quarter. Phnom Penh was founded in 1372 and has been the Cambodian national capital since the time of French colonization (1865). The Khmer-French cuisine which we will experience is spectacular and flavorful.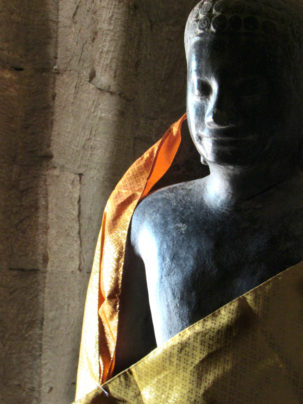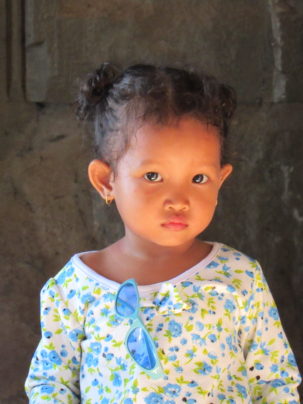 Visit to the National Museum of Cambodia, with its stunning collection of Khmer period sculptures and sacred art (9th, 10th, and 11th centuries). An explanation of Shiva and Vishnu, their importance in Cambodian cosmology, including current worship. Scenes from the life of Shiva, and also pottery and bronzes, dating from the 4th to the 9th Centuries. Luxuriate in the central garden.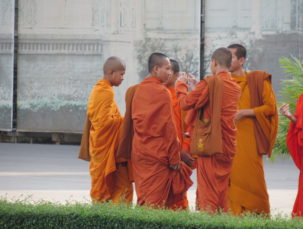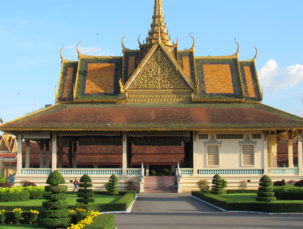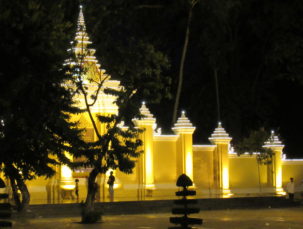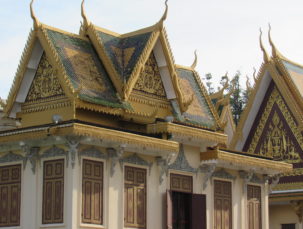 After lunch, a visit to the Royal Palace. Ornate gold gilding and classic Khmer roof designs welcome us to the gardens and structures surrounding the royal residences.
We will explore the Silver Pagoda (with a base of five tons of silver), also known locally as Wat Preah Keo, the Temple of the Emerald Buddha.
We will view the solid gold Buddha adorned with over 2,000 diamonds. Nearby is a silver and gold stupa, containing a relic of the Buddha, brought from Sri Lanka. Close by is a gold figurine dramatization of the life of the Buddha. There are also exuberant and colorful Khmer masks, used in classical dance.
Evening stroll along the Mekong River, one of the great rivers of the world, and dinner in a tropical setting with birdsongs and jasmine flower blossoms, and conversations about what we saw and experienced during the day. Tuk-tuk ride back to our boutique hotel.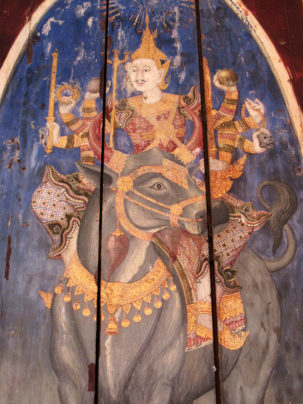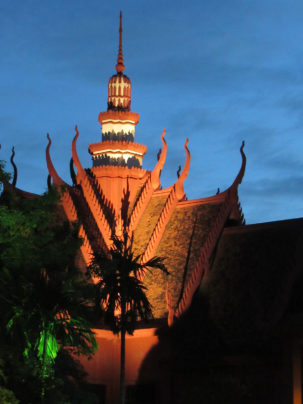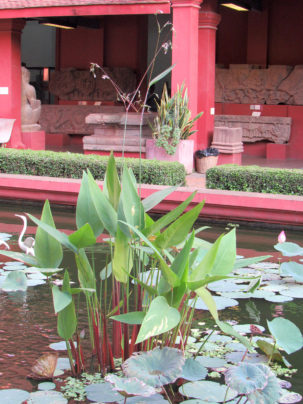 Day 2. Thursday, October 25.
After breakfast we will visit Wat Phnom, constructed in the 1300's, and perhaps the most compelling Buddhist temple in Phnom Penh. We will be greeted at the entrance by sculpted lions and mythical serpents. In the interior there are opportunities to meditate with ornamental bats, guardian nagas, and devotees who make pilgrimage to this sacred shrine. Here we will learn of the legend of Lady Penh and also receive a talk and insights by a senior monk in the Theravada tradition.
Before lunch we will visit the Daughters of Cambodia, an 11-year old N.G.O. committed to empower those trapped in the sex industry, and mentor them to permanently move into a sustainable lifestyle of healing and independence, respecting human rights.
There we will have a talk about changing lives for victims into healing transformations and in creating aspirations and skills and jobs and in creating a local culture of loving kindness.
After lunch we will take a ferry boat barge crossing the legendary Mekong River to Silk Island.
Here we will experience traditional homes and rural life in the village and farmers working the rich soils for their crops.
We will visit the Coconut School, a unique home and school for abandoned children and venue for supplemental additional math and English schooling for some 240 of the island's children. Coconut school crafts artisanal products made from recycled materials, from what some consider rubbish. We will then visit Silk Farm and experience the production cycle from silk worms, through their life-cycle into the making of exquisite silk products and scarfs.
Dinner back at Phnom Penh will include an insider's tour of a Buddhist sculpture workshop, including a talk on sacred art creation, by the founder, Chanras Prou.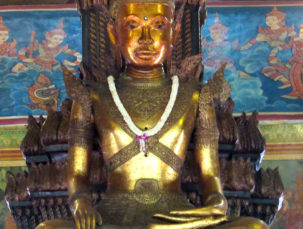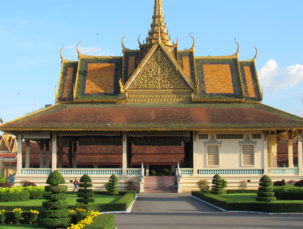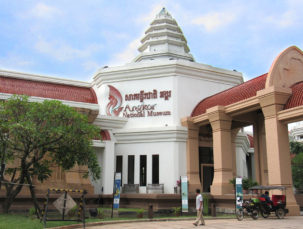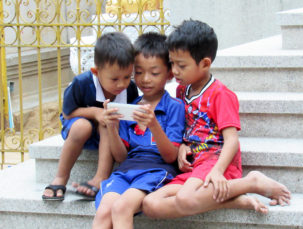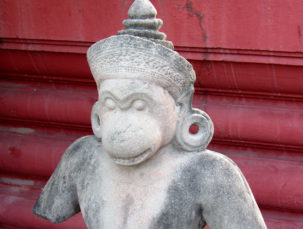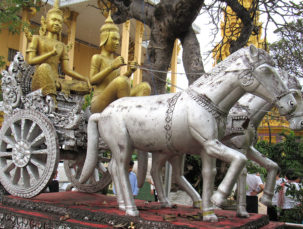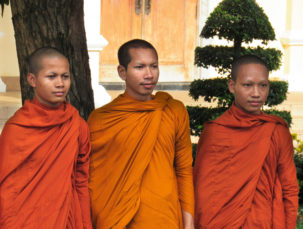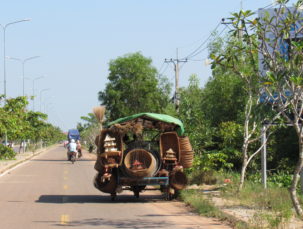 Day 3. Friday, October 26.
We will have breakfast with our guide Roeum Rith who will give an overview of the itinerary ahead. Roeum is a joyous Cambodian and devout Theravada Buddhist practitioner, and experienced Angkor Wat and Cambodian guide and cultural historian.
We are blessed to have the depth of his knowledge and also the relationships he has throughout Cambodia, allowing us to have doors open that most Westerners do not get to experience.
We depart for Battambang, seeing royal stupas and visiting a pottery village along the way. We will also visit a high quality marble stone carving village, and then drive to Udong Hill.
At Udong (meaning victorious), we will learn about the thriving 12,000 population in the 18th Century, when the presence of the Arthaross Temple, an 18 sided expression built in the Khmer tradition, caused the Chinese emperor to stand down from invasion, after Chinese scouts encountered Udong and the sophisticated Khmer culture. Udong was Cambodia's royal residence for 250 years (from 1618-1860).
The hill, or modest mountain, which we will gently hike, was perceived by the fierce Chinese to be shaped like a naga, and the Chinese advance party told the emperor that the Khmers were already a powerful society, not to be messed with. In return, the Chinese requested that the Khmer king build a temple above the cavern on the hill, with the Buddha's face towards China, in order to protect China. This became the Anthaross Temple (meaning eighteen corners). Here the Buddha faces north, instead of the traditional direction of east, symbolizing the traditional strength of the ancient Khmer kingdom.
After lunch in Pursat Province (the name of a native tree), we will drive to Battambang Province and spend the night at the Hotel and Spa. Pool, sauna, massages and dinner are available.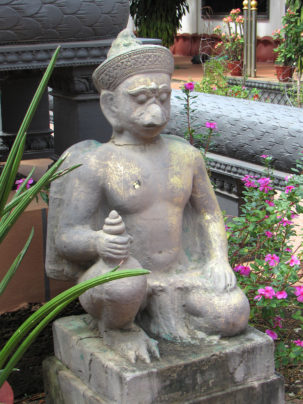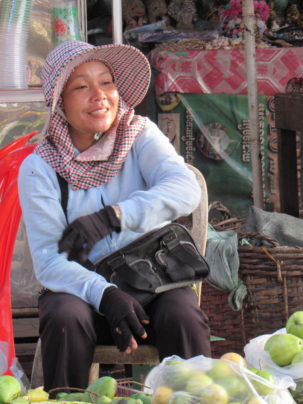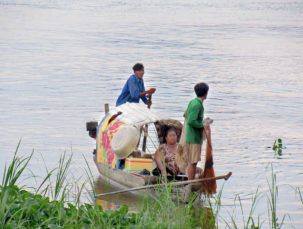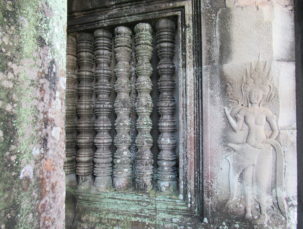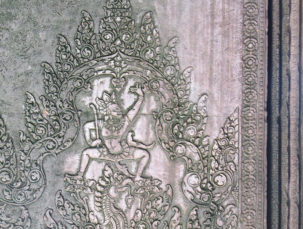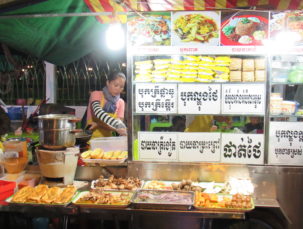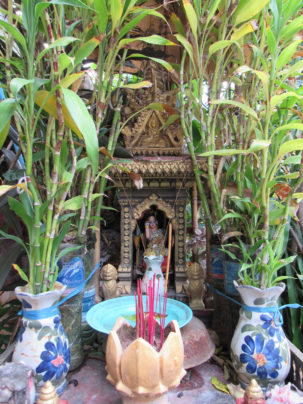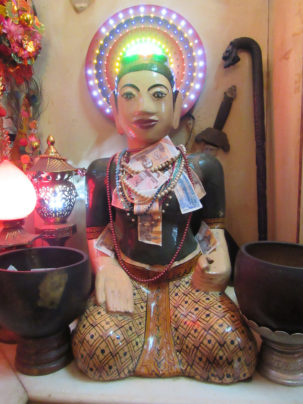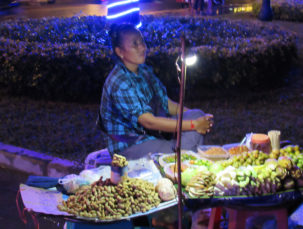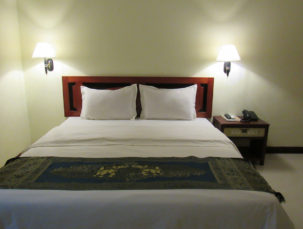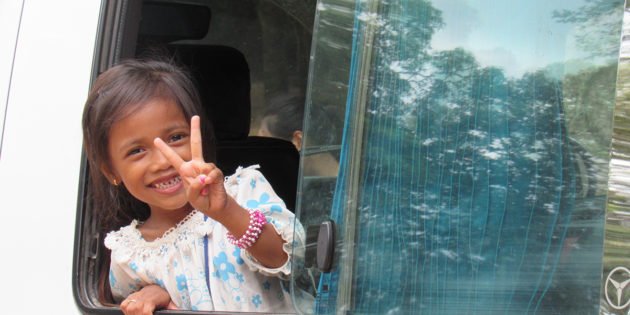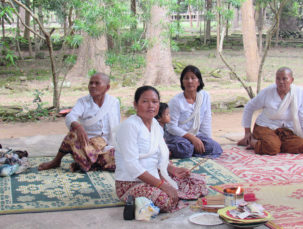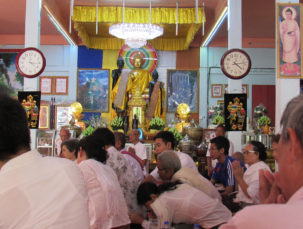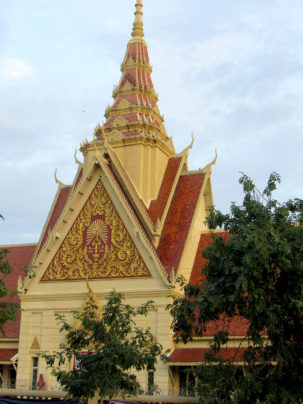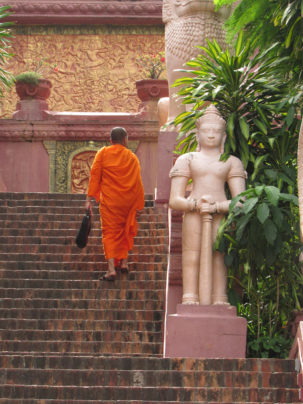 Day 4. Saturday, October 27.
We will ride the 30-minute quirky Bamboo Train, a short railway loaded with people, rice, and livestock. This will become one of your top three or four Cambodia experiences, intimately flying through jungle overgrowth and rice paddies!
We will visit a rice-paper making village and observe the ancient process of farmers making rice paper. The rice papers are used to make the spring rolls for our breakfasts. Nearby this village we will visit the enchanting Wat Slaket pagoda, which is the residence of the provincial Buddhist patriarch.
After lunch we will return to our hotel. In the mid-afternoon we will visit Sampove Hill and Monastery. Here there are many intriguing and beautiful caves in the mountain. We will have translated discussions with nuns and priests and Buddhist monks. This will be a place for a lecture on Theravada Buddhism. This is an ideal place to see the sunset on top of this small hill mountain. After sunset we can watch millions of bats coming out from the caves. Dinner at a local restaurant.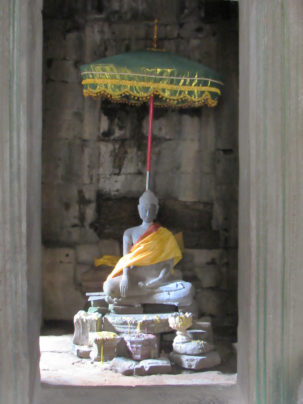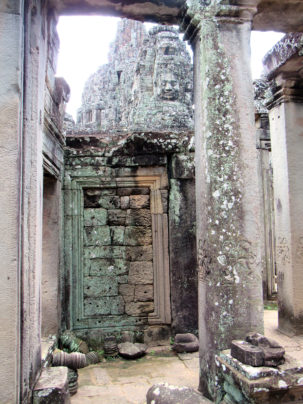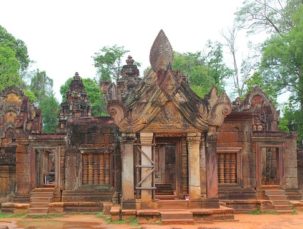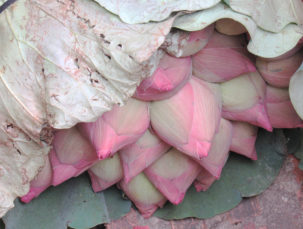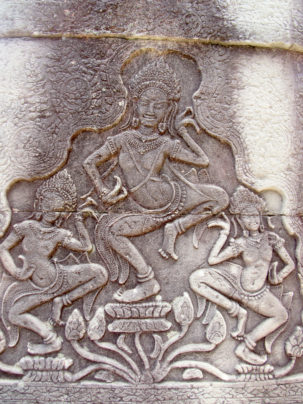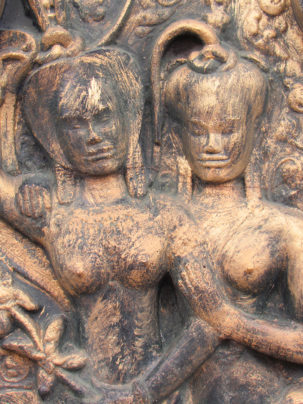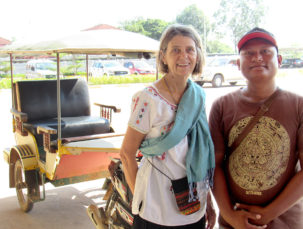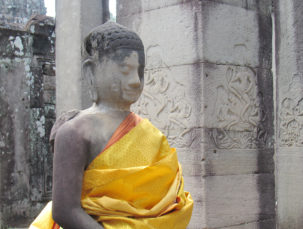 Day 5. Sunday, October 28.
After breakfast, a short drive from Battambang to Siem Reap (the Angkor Wat region). Lecture and discussion at the forgotten ruins of Banteay Chhmar Buddhist Temple, called the Citadel of the Cats, hidden in a remote corner of Cambodia. This is an 800-year old time capsule gem holding many secrets of the earliest Khmer empire … this was a repository of sacred art commissioned by the Khmer Empire's last great king, Jayavatman VII, who converted Cambodia to Buddhism, which remains the national spiritual path today.
There is an ambitious international program today to conserve and restore Cambodian history, art and archeology at Banteay Chhmar Temple. This vast and hidden site contains one of the great architectural masterpieces of Southeast Asia and is now among Cambodia's top-listed sites for nomination to UNESCO's World Heritage List. We are blessed that our guide, Roeum Rith, will be taking us there. We plan to have a lecture and discussion at the site.
French archeologist George Groslier wrote this upon his survey of Banteay Chhmar complex in 1914:
"… of all the Khmer monuments that they had explored, Banteay Chhmar was the most ruined, the largest, the most chaotic … and the most indecipherable."
Upon his subsequent survey visit, he wrote:
"It took me ten days of uninterrupted work, from dawn to dusk, to survey Banteay Chhmar. No other temple in Cambodia is so vast or lies in such ruin … no where else have I felt such deep emotion, studying the stones on site and re-erecting them one by one on paper."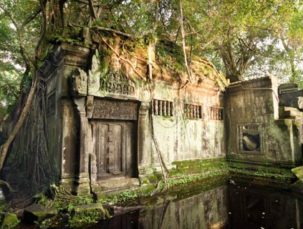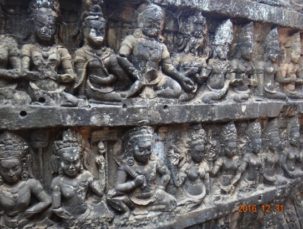 Day 6. Monday, October 29.
After breakfast, a tour of the Angkor National Museum, an exceptional experience with astonishing sculptures, including the Sumedha Hermit.
This late 12th Century sculpture depicts one of the past lives of Gautama Buddha flying through the air, foretelling eons before, the Siddhartha Buddha.
This is a world-class museum, with interactive exhibits and audio tour, the journey back in time from the creation to the height of Khmer civilization throughout the eight galleries, carefully showcasing and offering up a good understanding of ancient Khmer civilization, which was one of the most evolved cultures and societies at the time.
In the afternoon we will explore Wat Preah Prohm Rath Temple and pagoda, with some very curious and uniquely devotional statutes. Last year when we visited, Marla and I were invited to a community dinner and a Puja ceremony there. We will have a talk by Roeum Rith here.
In the late afternoon we will visit and be introduced to the iconic Angkor Wat complex, covering 400 acres, leading into a memorable sunset among the temples. Angkor was built in the early 12th Century as a Hindu temple dedicated to the god Vishnu, with a stunning harmony of architecture, and was gradually over the centuries transformed into a Buddhist temple complex.
Day 7. Tuesday, October 30.
Depart for Kampong Khleang, located on the northern lake edge, 55Km east of Siem Reap. We will go by boat which will be a memorable experience on the river, moving between wetlands and jungle. Here we will see a large village on stilts rising up 10 meters, depending upon the lake waters rising. On the way back we will stop at a newly constructed monastery and have a discussion and lecture on Theravada Buddhism.
Afternoon visit to Angkor Thom, deep in the jungle and the resting place of the last Khmer capital before the decline of the empire, including Bayon, Terrace of the Elephants, and Terrace of the Leper King, and the habitat to multitudes of curious monkeys.
The Buddhist cosmology here is compelling with Angkor Thom divided into four parts, with the Bayon Temple situated at the exact center of the axis, which stands as symbolic link between heaven and earth. There are also symbols of the cosmic ocean and other, mandala-like mysterious Buddhist representations, dating from the 10th and the 11th Centuries.
We will visit a small sandstone temple dedicated to the bodhisattva Avalokitesvara occupying each corner of the wall enclosing the city of Angkor Thom. Late afternoon with the monkeys on the temple grounds, surrounded by exuberant bird sounds, is a precious experience.
Siem Reap Night Market is a very immersive experience with people watching, mangoes-on-a- stick, massages, and every form of Asian folk art for sale.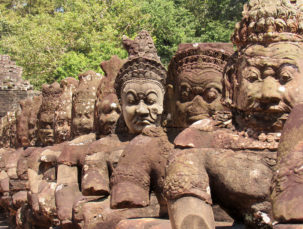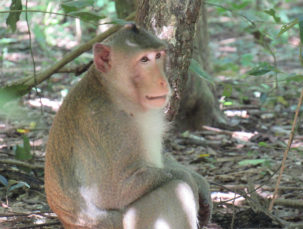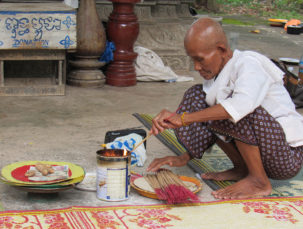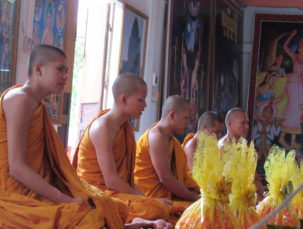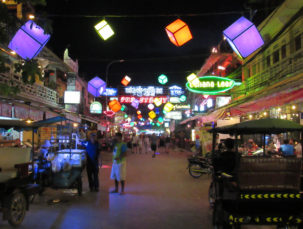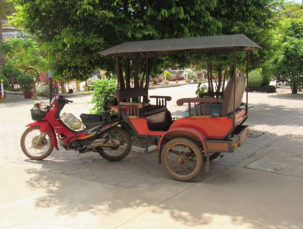 Day 8. Wednesday, October 31.
Sunrise at Angkor Wat and then breakfast. Visit nearby Banteay Srey, a 10th Century Cambodian temple dedicated to the Hindu god Shiva, with red sandstone, called "the jewel of Khmer art" with elaborate in-tact, decorative wall carvings. On the way back we will visit farmers and get our hands into the soil, assisting them.
Afternoon free time, shopping, journaling, and rest. Late afternoon flight back to Bangkok.