"The world has few secrets left … Bhutan is one of them."
— Katie Hickman, Dreams of the Peaceful Dragon – A Journey into Bhutan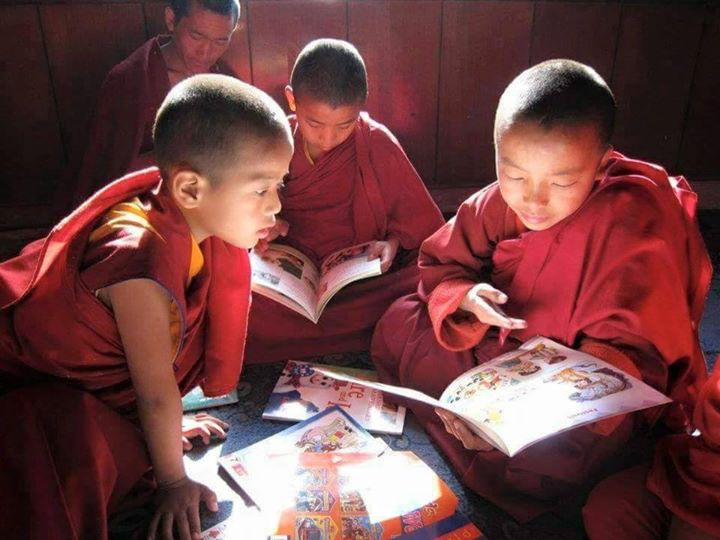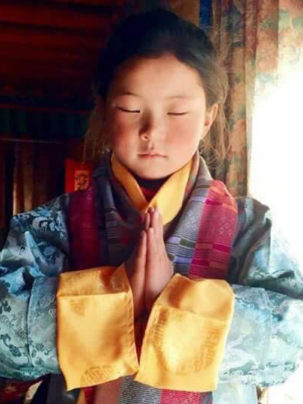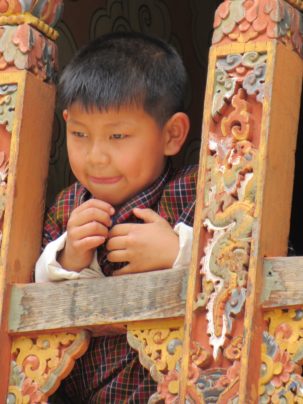 Wednesday, Oct 10th.
Early morning flight from Bangkok, flying over the stunning Himalayas, and arriving in Paro. After Paro lodge check in and brief rest, we will visit the sacred Kyichu Lhakhang and meditation master H.H. Dilgo Khyentse's ancestral Home Museum.
Over lunch, we will have a presentation by Khenpo Phuntsho Tashi Director of the National Museum, followed by a tour of this jewel-box of Himalayan and Bhutanese artifacts, culture, and tradition, including sacred masks from centuries of mask dance festivals.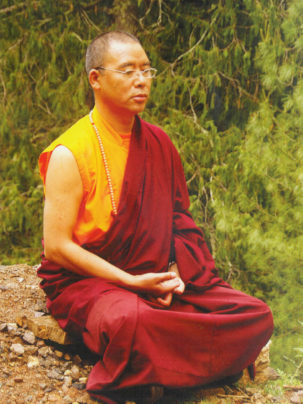 Khenpo Tashi is the author of numerous profound books, including Invoking Happiness, Three Rising Stars: Amazing life stories of the Enlightened Masters of Bhutan, Mindful Living in Bhutan, The Fine Art of Living and Manifesting A Peaceful Death: Primordial Wisdom, and Journey to Liberation: A Life Story of the Buddha According to the Mahayana Tradition.
Khenpo Tashi has traveled throughout the world giving retreats and workshops. He is very approachable, easy to understand, and a delight. Khenpo participated, a decade ago, in the Smithsonian exhibition in Washington D.C. on Bhutan, culture and art. We are very blessed to have his participation, compassion, wisdom, and friendship.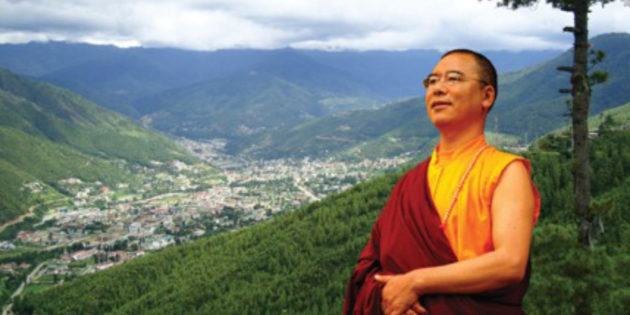 Thursday, Oct 11th.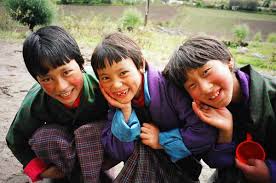 Depart for Haa Valley. According to local legend, an ancient deity helped construct a temple in the Valley, and thus the area, which means 'surprise'. We will visit Lhakhang Karpo and Nagpo (the White and the Black Temples), believed to been built in the 7th century by the great Tibetan emperor.
We have invited the governor, the Haa Dzongdag, to speak to our group. Following dinner, optional traditional hot stone healing bath with artemisia medicinal herbs.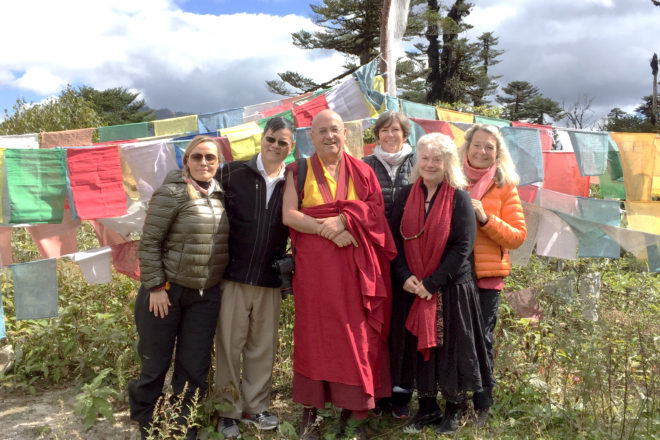 Friday, Oct 12th.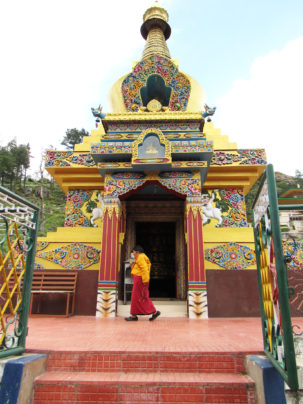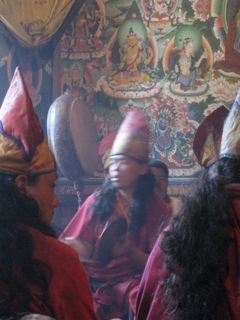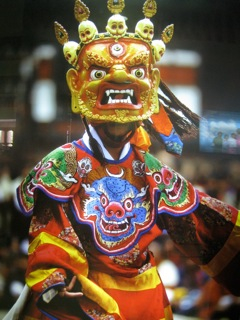 Hike to Yangthong Goenpa, through a magical pathway along fields of buckweat grain and into blue pine, hemlock, and oak forests and many varieties of rhododendrons. The destination is this precious Goenpa temple, a rare and hidden treat for travelers.
The Haa Valley presents nature lovers with a paradise of beauty with unparalleled flora and fauna. October is an ideal time to be outdoors in western Bhutan. Traditional hot stone bath opportunities in the evening. Story-telling and meditation.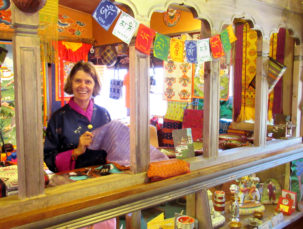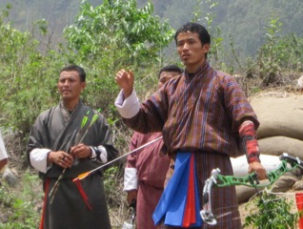 Saturday, Oct 13th.
After breakfast we start our travels towards the capital, Thimphu, the seat of Bhutan's modern government, the world's youngest parliamentary democracy. The King, the parliament, the Supreme Court and many monasteries, galleries, coffee shops, and some of the best pastry shops in all of the Himalaya, are located here.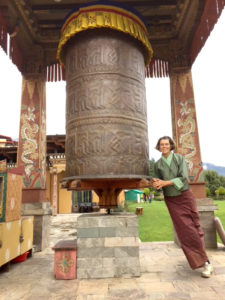 Along the way we will visit Kilikha Nunnery, Bhutan's oldest nunnery, on the way to Paro. At Chele La Pass, one of Bhutan's most beautiful high passes, we will have a gentle hike. Some of us might just sit, on a clear day and gaze at the spectacular views of Mt. Jumolhari, whose meaning is 'the bride of Kangchenjunga', the mountain straddling Bhutan and Tibet. Mt. Jomolhari is the source of the Paro Chu (Paro river).
After lunch, we will have an engaging session with Tashi Tshering. Tashi's father was the consigliere, trusted counselor to the 4th King.
The beloved 4th King is called the Philosopher King. He introduced the concept of Gross National Happiness (GNH) Index, which is a lens through which all development is evaluated with rigor. GNH is also the society touch-stone where good governance, societal happiness, sustainable development, education and well-being are given the highest aspirations.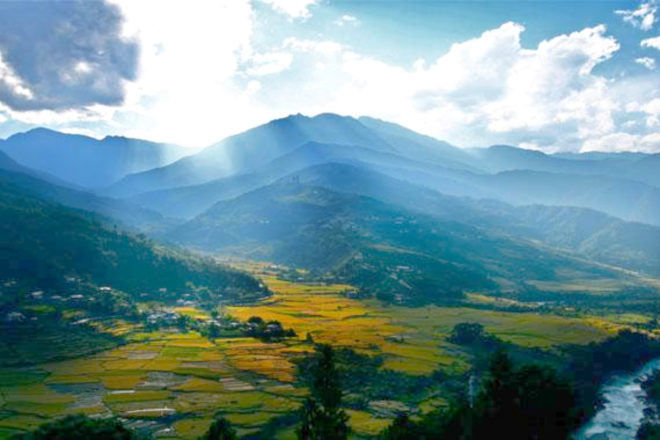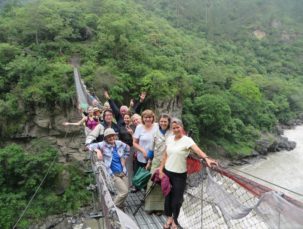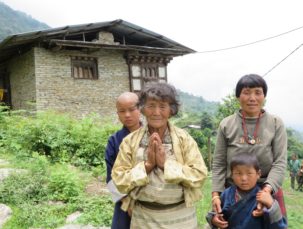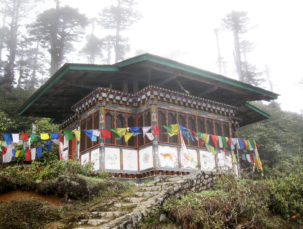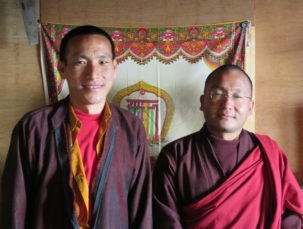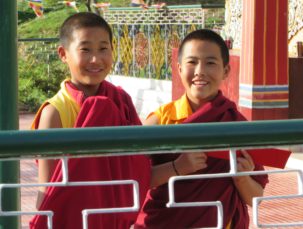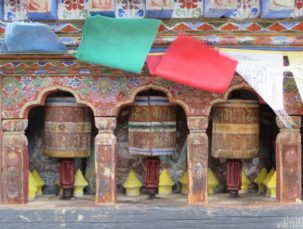 There are many lessons Bhutan offers to the world, including 'drala', or spiritual ecology, the way Bhutan goes about interacting with the natural environment, in making the everyday sacred.
The 4th King also introduced English as the unifying language for the Kingdom. In a land where the Bhuanese speak 3–4 languages/dialects, unifying everyone with English-speaking practice has been of great benefit to facilitate communication among the people of various remote regions of Bhutan. Many of the people remain isolated by their mountainous geography.
The result of English speaking and education, is that visitors have accessible dialogues with the majority of Bhutanese under the age of fifty.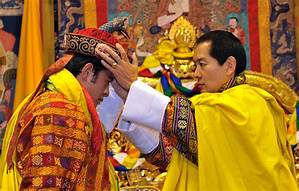 Returning to Tashi Tshering, he is an advisor to the 5th King and Royal family, and also a political and cultural historian with immense knowledge to share with our pilgrimage participants.
Retreat Sunday, Oct. 14th – Thursday, 18th in the Paro area, near Tiger's Nest.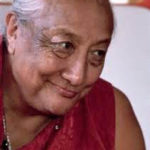 The 5-Day Retreat will be held at Thekchog Choki Gatsel, founded by His Holiness Dilgo Khyentse Rinpoche.
This is a sacred pilgrimage site, one where Ven. Dilgo Khyentse walked, meditated, and gave ancient transmissions; and a precious place of devotion and inquiry. We are blessed to have this rare opportunity to have the Retreat at such a spacious and peaceful environment.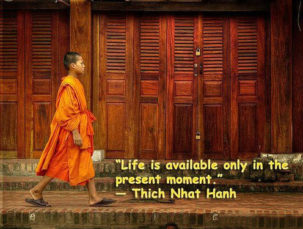 The Retreat will be a time to interact with the Western and Bhutanese teachers, lamas, nuns, monks, and scholars, while they provide teachings, meditation, transmissions, and engage in conversational dialogues nurturing personal transformation.
One's destination is never a place but a new way of looking at things.
— Playwright and author Henry Miller
The essence of retreat is setting up a boundary … we are talking about a boundary of time, setting up a boundary between past and future, which ideally means we remain in the present.
— Dzongsar Khyentse Rinpoche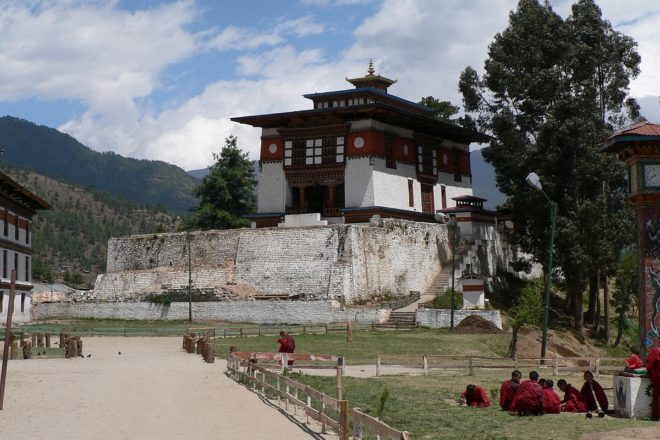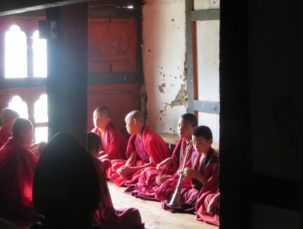 Inaugural prayers at Dechen Phodrang Monastery, the "Palace of Great Bliss."
This monastery was known as Dho Ngon Dzong, and was built in 1216 by Lam Gyalwa Lhanangpa, one of the Lam Kha Ngas, 5 groups of lamas.
This lineage would later revolt against the Zhabdrung ( the great unifier) and they would be crushed by him in the 17th century. From 1971, it has become the monastic school for about 250 students. It is located above the Supreme Court. The Monastery contains important historical Bhutanese artifacts including 12th Century paintings monitored by UNESCO.
The 5-Day Rare Retreat Theme, "Cultivating Compassion: Tradition, Science, and the Divine Feminine."
Western Teachers will be participating fully throughout the Pilgrimage and the Retreat.
This precious five-day retreat in the heart of the last Buddhist kingdom introduces the visitor to the inner compassion of the human heart through three methods: traditional awakened heart practices (bodhicitta), the findings of contemporary science, and invoking the divine feminine of the bodhisattva goddesses of Tara and the Diamond Sow. The retreat will include accessible meditation teaching and practice, an introduction to scientific discoveries, and ceremonial practices indigenous to the kingdom of Bhutan.
In the context of current societal individualism and loneliness, and despair about political, environmental, and social dysfunctionality, we will explore the following topics in dialogue, dharma talks, and meditations:
Awakening our connection with all sentient and all living beings, and cherishing them;
Self-compassion as the basis for compassion for others and for the world;
The experience of the awakened heart, bodhicitta, and its cultivation in meditation;
Exploring the neurological basis of compassion, and how compassion practice changes the brain;
Invoking the power of the Divine Feminine to engender compassion, drawing on the goddess Tara and the sky-goer (dakini) Diamond Sow;
Selfless compassion as an engaged path of Integrity and Responsibility;
Social compassion in Bhutan's spiritual ecology of Gross National Happiness
Bringing compassion back home to heal our global community and ecology.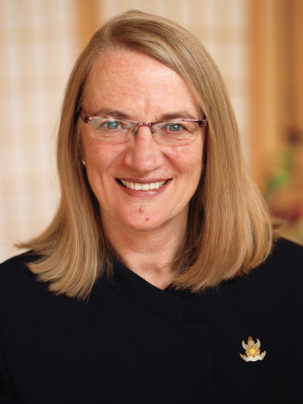 Acharya Judith Simmer-Brown, Ph.D., author of Dakini's Warm Breath: The Feminine Principle in Tibetan Buddhism, and senior student of Venerable Chogyam Trungpa Rinpoche. Judith is completing 40 years of wisdom transmission on the faculty of Naropa University in Boulder, Colorado. Judith has been to Bhutan previously, as part of a team of Western educators invited into the Kingdom and guiding in the development of Bhutan's emerging formal higher education.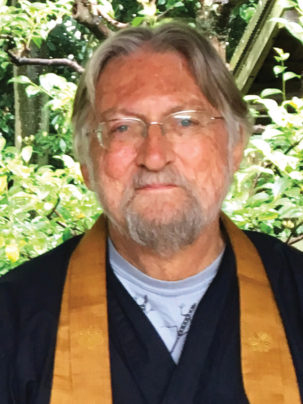 Sensei Al Kaszniak, Ph.D., Professor Emeritus at the University of Arizona Departments of Psychology, Neurology, and Psychiatry, has served for several years as chief academic officer for the Mind and Life Institute, a collaboration between contemplatives and neuroscience, founded by His Holiness, the Dalai Lama. Al is the spiritual leader of the Tucson Upaya Zen Sangha, and has served on the Board of the University of Arizona Center for Compassion Studies;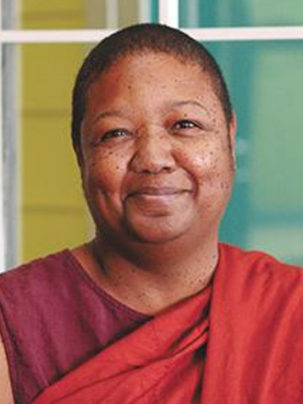 Venerable Dr. Pannavati Bhikkhuni, co-Abbot of Embracing Simplicity Hermitage in Hendersonville, NC .
Ven. Dr. Pannavati, a former Christian pastor, is co-founder and co-Abbot of Embracing Simplicity Hermitage; and Co-Director of Heartwood Refuge, a new intentional community, and residential retreat and conference center in Hendersonville, NC. She is president of the Treasure Human Life Foundation. An African-American, female Buddhist monk ordained in the Theravada and Chan traditions, she remains a disciple of Great Master Kuang Seng, continues Vajrayana empowerments and teachings with beloved Rinpoche Zhaxi Zhouma and received transmission from Roshi Bernie Glassman of Zen Peacemaker.
Ven. Pannavati is both contemplative and empowered for compassionate service. She conducts retreats nationally at over 50 centers and churches each year sharing living truths that are deep, yet apprehendable. She advises the cultivation of both wisdom and compassionate action. She believes is it fine to sit in temples and meditate and pray when things are good; when they are not, we are compelled to get off our pillows and do something. Let our actions line up with our intentions.
The October 2018 Bhutan Pilgrimage and Retreat will offer meditations, mindfulness movement experiences, teachings, dialogue, and transmissions.
The 5-Day Retreat and will include an optional morning sit before breakfast, two morning teachings approximately 1-1/2 hours each; two afternoon sessions approximately 1-1/2 hours each; and an early evening check-in assimilating the day's teachings into participants' practice. In addition, there will be related sightseeing during retreat week to sacred sites, keeping the integrity of the retreat week boundaries and continuity of teachings.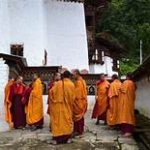 Among sacred sites during retreat week, we will visit Cheri Monastery, also called Chagri Dorjenden Monastery, established 1620, established by Ngawang Namgyal, founder of the Bhutanese state. Cheri Monastery is home to many sacred relics, located north of Thimphu. Cheri is a meditation center for higher level Buddhist studies, accessible by a gentle hike through the forest. A visit to Cheri is spiritually purifying. Many young reincarnated masters study here.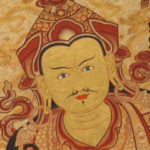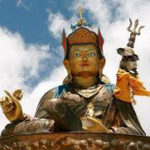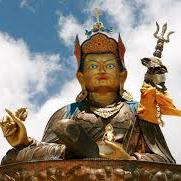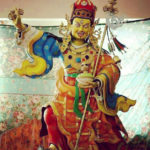 The Cheri Monastery site was visited by Guru Rinpoche, the precious saint of Bhutan, who introduced Buddhism into Bhutan, and who is also called Padmasambhava, in the 8th Century. He flew into Bhutan on the back of a tigress, his consort.
Friday, Oct.19th.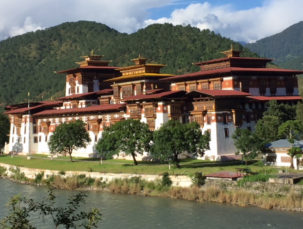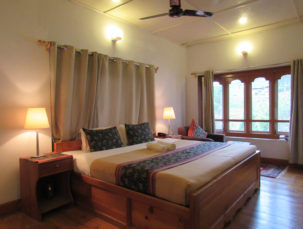 After breakfast we will journey to Punakha. En route, we will visit Dochula Pass and walk among the profound 108 stupas, sometimes shrouded in mysterious clouds. The stunning monument series was built by the Royal Grand Mother. We will also visit and have a gentle walk to Chimi Lhakhang. One of the most memorable experiences will be our visit to the legendary and grand Punakha Dzong, the 17th Century fortress at the junction of the Pho Chhu (Father) and Mo Chhu (Mother) rivers. It was the capital and seat of government until 1955. Punakha remains the winter home of the Royal family. Leisure time will be in the Khuruthang town.
Saturday, Oct.20th.
Visit the scared site of Dho Jhaga Lam.(the rock of Indian Saint) Drubthob Nagi Rinchen (Vanaratna, 1384-1468) a Bengali Pandita and Mahasiddha, reportedly the "last great Indian Pandita to visit Tibet" was born a prince in Sadnagara, near present-day Chittagong district of Bangladesh. At age 8, he received novice ordination from Buddhaghosha and Sujataratna.
The revered Pandita took up his studies and perfected them very quickly. At age 20 he received full ordination from the same two masters, and went to Sri Lanka for six years, where he spent most of his time meditating in seclusion. Upon his return to India, he was greatly praised by the famous scholar Naraditya.
Pandita Rinchen came to Bhutan in search of his mother's reincarnation. His mother had been reborn as a frog due to heinous karma and was trapped within a large rock. To free her, Nagi Rinchen sent lightning to split the rock into two to liberate his mother. This is now called Dho Jhaga Lam (Rock of Indian Saint) in Punakha. We will have conversations with Bhutanese, who deeply believe in the sacredness of everydayness, and in the connectedness of everything.
We will have the precious opportunity (optional) to hike Khamsum Yuelley Namgyel. The gentle trail to Khamsum Chorten, where we can admire this impressive structure and the beautiful view of the valley below. The Chorten was built by Queen mother Ashi Tshering Yangdon. This particular place invites experiencing stunning views of the valleys on the Mo Chhu (mother river).
Sunday, Oct 21st.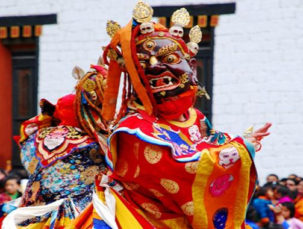 Drive to Paro.
Visit Simthoka Dzong. Enjoy the authentic sacred Mask Dance performance. Shopping opportunity in Paro town with galleries, stores, and artist studios, and cafés with excellent pastries.
Monday, Oct 22nd.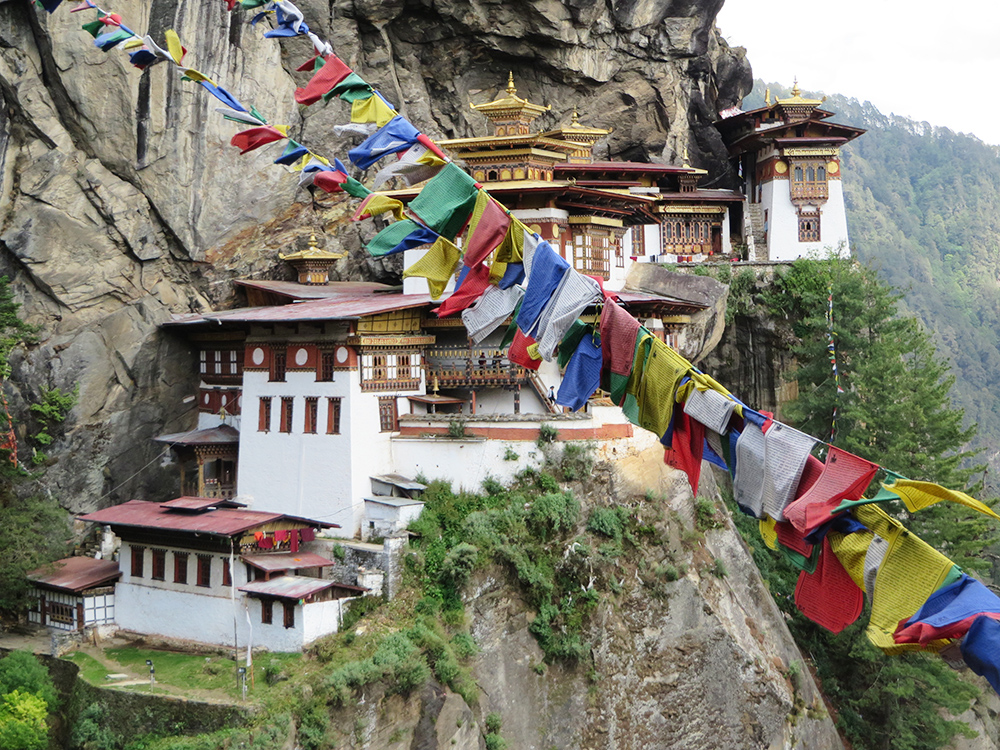 Hike Taktsang, the iconic Tiger's Nest with its maze of hidden temple rooms in the side of the mountain walls, where Padmasambhava (Guru Rinpoche); Yeshe Tsogyal, the 8th century "Wisdom Lake Queen" and Mother of Tibetan Buddhism; and also many healers and meditation masters have come to pilgrimage and meditate, over the past 13 centuries. Gentle ponies are available for transport, half-way up the trail. Other sightseeing options are available for those not going up Tiger's Nest. For anyone not wanting to hike Tiger's Nest, there will be optional visits to sacred sites in Paro Valley available. Additional shopping opportunities late afternoon, for those reconsidering treasures or gifts, to acquire. Farewell Dinner.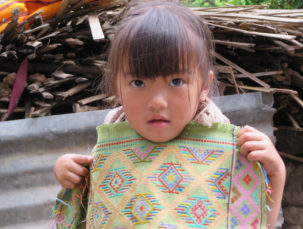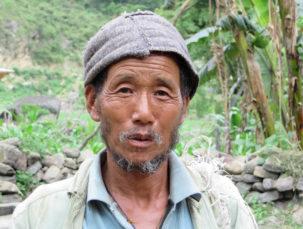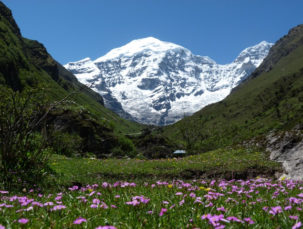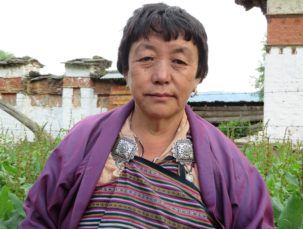 Tuesday, October 23rd.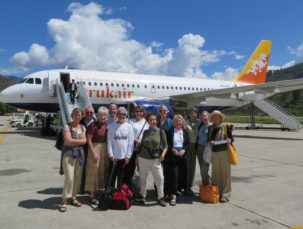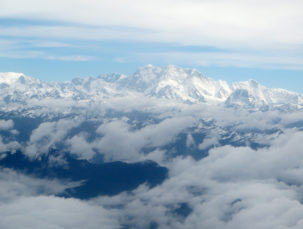 After breakfast, departure to Paro International Airport. Leaving Bhutan begins a new transition. An opportunity opens for integrating our experiences, welcoming ideas and insights, choosing activities that reflect what we have learned.
Consider joining us in this life-changing, rare Bhutan experience!
— Charles and Marla
---
For those of you considering traveling on with us to Cambodia and Angkor Wat, please see separate Cambodia post-tour Itinerary and Cambodia Travel Planner.