Bhutan 2013 Symposium-Tour and Bangkok Interlude:
May 31.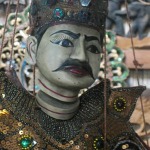 Symposium-Tour participants arrive Bangkok, Thailand. "Sawadi Khah!" Greeted at the airport. Transfer to Hotel. Rest and rejuvenate at the Hotel.
June 1.
Participants may continue to rest, explore Bangkok on their own, or join the group to visit the "Floating Markets". We will visit the Tha Kha Floating market early in the morning, before the crowds arrive. Tha Kha is more the indigenous market, where the locals shop for fresh and exotic fruits and vegetables. There is lots of bargaining and chatter, as the skillful boats people navigate their canoes in the canals, paddling and haggling. If time permits, we will also visit the more popular Damoen Saduat Floating market, which also offers art, antiques, and tourist souveniers. Both are southwest of Bangkok.
We will then visit Wat Phra Kaew, the 61-acre Grand Palace, which includes the most venerated holy site in Thailand, the Temple of the Emerald Buddha (the jade sculpture was created in the 14th Century). This astonishing sacred site will give us an introduction into the various forms of Buddhist architecture, painting, sculpture, and antiquity.
The connection between the monarchy and Buddhism is always near the surface, and quite profound: It is the Thai King who is responsible, at the beginning of each season, for visiting the Emerald Buddha, and changing the Buddha's robes.
For those up for it, we will visit the nearby Chatuchak Weekend Market, a glorious, well-thought out 35 acres, with sections devoted to silk fabrics and textiles, jewelry, collectibles, and antiques. There are DHL and FedEx services, to pack and shop 'gotta-have' purchases.
Reception and Welcome Dinner. Introductions and short talk by Susan Bauer-Wu on "The Meaning of Pilgrimage".
June 2.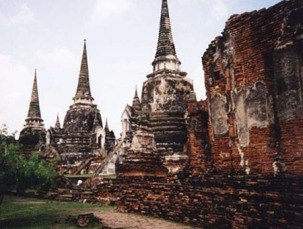 Day trip to Ayutthaya, 80 km north of Bangkok, and ancient capital of Siam, home to 33 Kings. Today it is a UNESCO World Heritage Site. From 1350 until its demise from the Burmese invasions of the 1700's, Ayutthaya, known as Phra Nakhon Si Ayutthaya, was the center of commerce and diplomacy, and the trading capital of Asia, on the route between China, India, Japan, the Malay Archipelgo, the Arab world, and Europe.
In 1700 it was the largest city in the world, with over 1 million inhabitants, and it is a treasure-trove and window into Asian antiquity, wisdom, and beliefs.
June 3.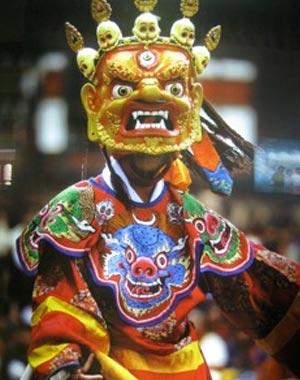 Morning flight into the Thunder Dragon Kingdom of Bhutan. The flight into the Paro Valley is stunning, with terraced paddy fields of red rice, ancient monasteries, and rustic farmhouses. Elevation 7,300 feet. Check in to the hotel. Reception and meditation introduction by presenter Tucker Peck.
Visit the revered Kyich Lhakhang shrine, established in the 7th Century. Considered one of the 108 border temples built by Tibetan Emperor Songsten, it was visited by Guru Rinpoche in the 8th Century, and holds many spiritual treasures. In 1971 the beloved Queen Choden Wangchuk built a Guru Rinpoche Temple on the site, which was consecrated by HH Dilgo Khyentse Rinpoche, completing a cycle of devotion of over 1,300 years.
Time permitting, we will visit the National Museum which showcases textiles, Thangkha paintings, textiles, ancient artifacts and natural history. Workshop led by presenter Dr. Susan Bauer-Wu, author of "Leaves Falling Gently". Welcome dinner followed by free time.
June 4.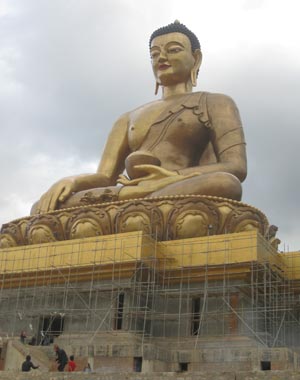 Morning Workshop with Khenpo Phuntshok Tashi: "Having a Contented Mind". Khenpo, who speaks seven languages and is the Director of the National Museum (and was a participant in the Smithsonian Folklife Festival) will also be talking on the Sacred Arts of Bhutan, The Origin of Happiness, and Enviornmental activism and The Middle View. After lunch and a meditation walk to the Wooden Bridge by Rinpung Dzong, we will have a short visit to Rinpung Dzong, home to the Monastic Body. Depart for drive to Thimphu, the capital.
Visit giant 169 foot bronze Buddha. Inside will be housed 125,000 small buddhas with prayers for compassion for all sentient beings. Short Dharma talk by Tucker Peck. Thimphu Hotel check-in. Visit craft market stalls exhibit and also the Folk Heritage Museum, where we will glimpse into the traditional Bhutanese lifestyle, rural traditions and seasonal rhythms. There will be insights into traditional hot stone baths, roasting red rice, and brewing indigenous Ara, and preparing traditional foods. We will have a walking tour of Thimphu, followed by a visit to the Textile Museum and the Zorig Chusum Arts and Crafts School, featuring the Sacred 13 Arts.
Dinner evening workshop by presenter Karma Galay, who earned his Master's Degree from Stanford, in International Policy Studies, and will be discussing Gross National Happiness initiatives, and also crime and punishment in modern Bhutan.
June 5. Visit and tour of the National Institute for Traditional Medicine, the Himalayan intersection of herbal and medicinal medicine and Western medicine. Overview by Director Dorji Wangchuk. Morning workshop presentation by Lopen Sonma Bomden, who earned a Master's Degree in Divinity from Naropa University in Colorado. He is the head of the Research and Library Section of the Monk Body, and has received teachings and empowerment from various Masters.
Afternoon workshop by Gembo Dorji, who is on the faculty of Bhutan's College of Science and Technology and the head of the 400-year old Central Monastic Body of Bhutanese Buddhism. Monk Gembo will be discussing adopting mindful technology and the internet, to Bhutan's Buddhist society. Drive back to Paro, for morning flight to the Bumthang Valley. Evening 'Tuck in with Tucker' meditation with Tucker Peck.
June 6.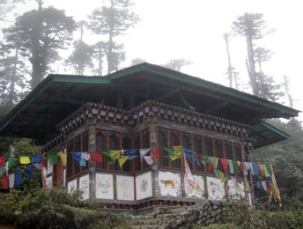 Short flight to Bumthang, the holy heartland of Bhutan, and one of the most spectacular valleys in all of Bhutan. A verdant series of agricultural valleys: Chumey, Choekhor, Tang, and Ura. Elevations about 8,500. Walking tour of the town of Bumthang-Jakar. Hotel check in. An easy walk in the broad leaf forest, home to varieties of rhododendrons. Meditation time with Tucker Peck.
Afternoon workshop with Merle Lefkoff at the venerated Lhdrak Kharchhu Monastery. Dr. Lefkoff will be discussing 'Chaos, Complexity, Spirituality, Compassion and Social Change".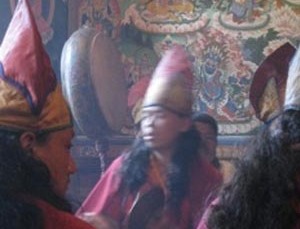 We will be hosted at the Monastery by the Seventh Namkhai Nyingpo, who received teachings from the Dalai Lama, and who now leads the monastery and the community of 400 resident monks. The spiritual lineage of Namkhai Nyingpo Rinpoche goes back directly to the Padmasambhava (Guru Rinpoche) in the 8th Century. The Rinpoche was a close student of Dilgo Khyentse Rinpoche, and so we are blessed, many times, with being hosted by the Rinpoche in Bumthang.
June 7.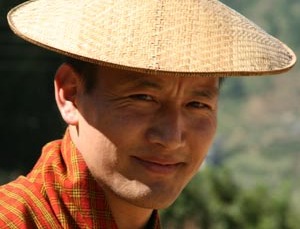 Morning workshop with Dr. Karma Phuntsho, a Tibetan Buddhist scholar with a Ph.D. earned from Oxford, he speaks eleven languages, and is the Holder of Esoteric and Definitive Doctrines with Lopen Distinction.
Lopen Karma was a Fellow at Harvard, in the Department of Sanskrit and Indian Studies. He will be presenting on "Bhutan's Spiritual Ecology", "Mind and or Brain: Response to Brain Scientists", and also thoughts on "The Perfection of Wisdom", and also his work on the oral history of Himalayan cultures.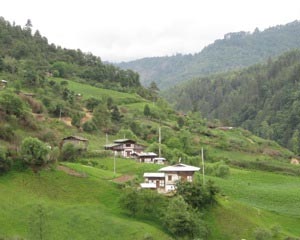 Afternoon touring of indigenous villages, temples, and visit to Membar Tsho (The Burning Lake), where the reincarnation of Padmasambhava discovered religious treasure in the 12th Century in the Tang Valley. Burning Lake is one the of most sacred Pilgrimage sites in all of Bhutan. If time permits, we could also visit Jamba Lhakhang, Pemasamba Lhaklang, Chakhar Lhakhang, and several other temples, all within nice and easy walks, time for reflection and picnics.
Before dinner check in with Tucker Peck: short Dharma talk or meditation (optional). Dinner presentation by Susan Bauer-Wu. After dinner, on your own.
June 8.
Morning workshop with Dr. Karma Phuntsho,continuation of yesterday. Walking meditation in the forest, or hike, before lunch. Free time early afternoon. 3:30 p.m. traditional Archery Tournament followed by Dance Fiesta and Dinner Reception.
After dinner presentation by Dr. Merle Lefkoff.
June 9.
Morning workshop presented by Khenpo Lungtaen Gyatso is Director of the Institute of Language and Cultural Studies, and is on the faculty of the Royal College of Bhutan. He will be discussing "The Mask Dance" and other cultural landmarks in the Bhutanese traditions.
River walk and sightseeing in the broad-leaf forest. If Namkhai Nyingpo Rinpoche is not in retreat, we have arranged a time for blessings and a presentation by the Rinpoche. Before dinner meditation with Tucker Peck.
Dinner presentation by Dr. Susan Bauer-Wu.
June 10.

After breakfast, drive to Trongsa, called 'The Doorway to Heaven'.
The Trongsa landscape is spectacular, with enchanting waterfalls, yaks on the road, dwarf bamboo forest, and once-in-a-lifetime views at Pele La Pass, where we will briefly savor the 11,000 foot views. Trongsa is one of Bhutan's most historic towns. The town's dzong, or fortress, was constructed in 1644 and their first temple in 1543. Trongsa was the original seat of power of the House of Wangchuck, before it became the ruling dynasty of Bhutan.
We will visit the Trongsa Museum of the Monarchy, eleven galleries in the watchtower, with the finest collection of art and antiquities from ancient and living Bhutanese cultures.
Visit to Chumey Valley and see the renowned weavers making regional textiles from yak and sheep wool. We will travel through both the Jigme Dorji National Park (4,316 square kilometers), home to 37 species of mammals: Bengal tigers, snow leopards, Himalayan Black bear, panda, and Barking deer, and also, we will drive through the Black Mountain National Park. Both are pristine and serene, lush forests. Meditation or short Dharma talk by Tucker Peck. Drive 4 hours to Gangtey. We arrive at our Gangtey Hotel for check in and dinner.
June 11.
After breakfast depart drive to Punakha, three hours.
Tour the Punakha Dzong, with cinematic proportions, it has withstood earthquakes, fires, and glacial river floods. Nestled in a temperate valley (4,200 feet), this was the seat of past Kings and Lamas. The harmonious Bhutanese architecture is a thrill to experience, at the confluence of the Pho Chhu (Father river) and the Mo Chuu (Mother river).
Workshop presentation by Dr. Merle Lefkoff. Break. Workshop presentation by Dr. Susan Bauer-Wu. Visit the Khamsum Yuley Temple and Chorten and see some of the most elaborate spiritual frescoes in all of Bhutan.
Drive back to Thimphu for dinner at Thimphu Hotel. Evening shopping, gallery visiting, and interacting with local people.
June 12.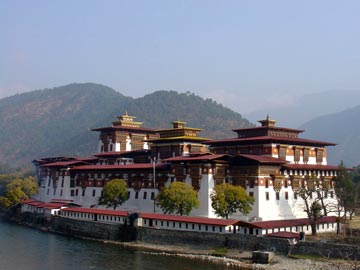 Visit Tango Monastery, founded by Lama Gyalwa Lhanangpa in the 12th Century, and now an upper level monastic school. There will be opportunities for hiking, meditation, shopping, reflection, visiting the National Library, the School of the Traditional Arts and Crafts, being leisurely, and also chatting with monks.
Depart Thimphu for Paro late afternoon. The drive takes an hour. Check in to our Paro Hotel and dinner.

June 13.
Early departure for hike up Takshang Monastery (Tiger's Nest) for those that wish to. There are sure-footed ponies that can be rented, one-way (up), for those that want to. The hike takes 3-4 hours and is one of the most significant Pilgrimages for both Bhutanese and also for world travelers.
There will be alternate activities for those who wish to remain in Paro. There is also a partial hike or walk, to an observation place, where the view of the Tiger's Nest is quite extraordinary. The belief is that Guru Rinpoche, who brought Buddhism to Bhutan, flew to the site on the back of a tigress, and meditated for three months, in a nearby cave.
Farewell Dinner at the Paro Hotel, which includes group participation, led by Susan Bauer-Wu and Merle Lefkoff, with gentle thoughts on integrating the Bhutan experience into one's daily life.
June 14.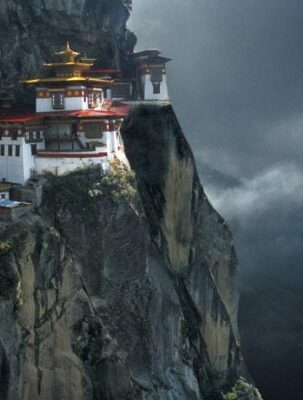 Breakfast at the Hotel. Transfer and departure for Bangkok and home. May you return to your life renewed and refreshed, having been blessed with friendships and in meeting a few precious souls in the Himalayan Kingdom of the Thunder Dragon.